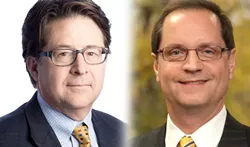 Photo: Royal Oak Music Theatre
Everyone's favorite defense team is making a stop in Royal Oak. Dean Strang and Jerry
Buting
aka 'the lawyers from Making a Murderer' will appear at the Royal Oak Music Theatre on
March 19 at 8 p.m.
In case you weren't binge-watching the Netflix documentary during the holidays (we don't ALL spend time with our families, ok?), here's what the 10-part series is all about: dude (Steven Avery) spends 18 years in prison after being convicted of a sexual assault he didn't commit, and just when you're ready to celebrate for the guy,
SHIT GETS REAL
.
Strang and Butin became internet darlings given their pursuit of truth and justice in the face of a pretty obviously corrupt sheriffs department, and their sweater game is pretty major. Here's what the theater describes the event as: "Attorneys Dean Strang and Jerry
Buting
will participate in a moderated discussion regarding the operations of the criminal justice system, as well as the broader implications of the Steven Avery case."
Tickets are going on sale this Friday at noon via
axg.com
and start at $55.