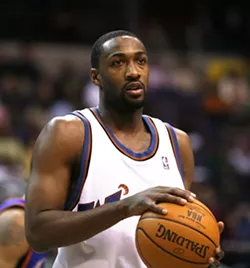 Former NBA player turned internet troll Gilbert Arenas is at it again.
Arenas has stirred up controversy before, most recently with his
comments about the WNBA
, but his Instagram posts on the Flint water crisis reached a new low. While other celebrities have rallied in support of clean water efforts, Arenas took to the social media site with a series of raunchy remarks about Flint women.
"Sorry ladies but ur dirtyness is public" he wrote. He later deleted that post only to come back hours later with a defiant, and more explicit, rant. The comments drew an immediate backlash from users who felt he crossed a line.
Arenas has since deleted his Instagram account but he can't hide the evidence.
Screenshots of his posts
remain to add to his legacy of offensive social media comments.
File this one under: SMDH.