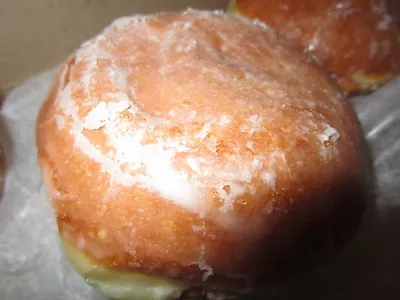 The only thing that will wash this calorie-laden sugar bomb down properly is blackberry brandy.
It's that time of year again: Paczki Day is coming. And it's not happening in weather like last year's, when Hamtramck got up to a high of 19 degrees.
First off, the usual warnings: Paczki (POON-shkee) is plural in Polish; so you can't eat one paczki. That would be a paczek (PON-check).
There are plenty of arguments whirling around about this holiday confection. If you want to learn more about that,
click here
.
There's a fun run on Saturday that will help you burn off the calories you'll pack back on the coming Tuesday. Some tough runners gutted it out last year. This year, the forecast calls for partly sunny skies and a high of 39 degrees.
Plenty of people toughed out last year's Paczki Run. It should be plenty easier this year.
For families and fun-seekers, the question is which bakery to get the glorified donuts from. They sell them everywhere from the Apple Frlitter shop in Ferndale to the New Martha Washington Bakery in Hamtramck to
hip newcomer Sister Pie in Detroit
.
For drinkers and bar-crawlers, the big question is whether to take Tuesday or Wednesday off. It depends on your love for and tolerance of day-drinking. The bars will open earlier than usual in Hamtramck on Tuesday, and all but the most athletic drinkers will be shitfaced by 5 p.m. and ready for bed. Some find it more fun to encounter these rascals at 5:30 p.m., enjoy their antics, and have a somewhat irregular night at the bar as nighttime revelers pour in.
Finally, if you've never done a Hamtramck bar crawl, you should order at least one shot of Jezy (YEZ-she), which will trickled into your veins and make you impervious to sugar-crashes, sobriety, and frowning.
Have fun! And remember: Don't get caught.