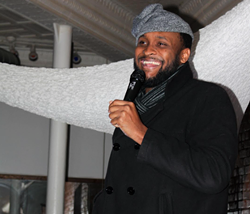 Looking for some fresh funny? Well, Detroit's newest comedy show, Goin' Up presented by Clever Vizion, is bringing amateur and veteran comedic acts to the stage every Tuesday night at Club Reign.
The shows, hosted by jokester Josh Adams, gives the audience an opportunity to laugh at punchlines and listen to local music artists live. Goin' Up debuted on the scene late last year and is quickly picking up momentum.
Founder Desmond "Kid Clever" Lester, encourages folks to support the showcases because there are new comedians and music talents presented weekly.
Goin' Up is located at Club Reign on 2055 Gratiot Ave. in Detroit and general admission is $5. For more deets,
visit their Instagram: @clevervizion.