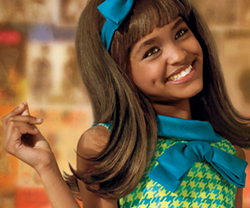 In honor of Black History Month, American Girl announced its latest doll will be a black girl named Melody Ellison from '60s era Detroit.
The company,
which isn't known for being spectacularly good at diversity
, consulted with late Civil Rights activist Julian Bond as well as the president of Detroit's Charles H. Wright Museum of African American History, the former director of the Detroit NAACP, and the director and professor emerita of U-M Dearborn's African and African American studies program while developing the character.
Melody will join the company's BeForever historical line, which includes characters like Kaya, an American Indian from 1764, Josephina, a 19th century Mexican American, and Julie, a white girl from the '70s.
A description of the doll's character appears on the website where her companion books can be purchased.
Melody Ellison is an optimistic, enthusiastic girl growing up in Detroit, Michigan during the civil rights movement of the 1960s. She's excited and proud to share a special surprise with her family—she's been chosen to sing a solo for Youth Day at her church! But what song will she choose? She gets advice from her big brother, and is also inspired by her older sister, but it's the inspirational words of Dr. Martin Luther King Jr. that help her pick the perfect song.
The doll, which will retail for a whopping $115, won't be for sale until sometime this summer. Plan on spending almost a grand if you want to pick up all her accessories too. They include a Motown style recording studio.