Screenshot from Kickstarter
By now we all know you can launch a Kickstarter about practically anything (except racist stuff, for that you gotta GoFundMe all the way to the bank), so it should come as no surprise that some asshole in New Jersey has recently launched one to seemingly just make fun of Detroit.
Described as "a spoof on Bravo's hit TV show Million Dollar Listing. We will explore the lives of two big time agent in the city of Detroit", the Jersey City resident with subpar typing skills/grammar is seeking $15,000 to create the comedy sketch.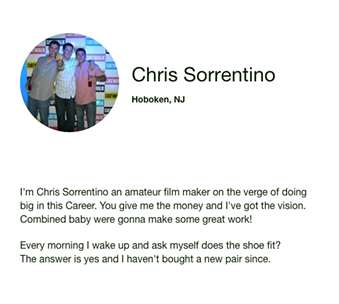 When asked in his promo video why the spoof will be funny and is deserving of your funds, he replies, "Because Detroit's a pretty poor city."
The description also reads, "This spoof will explore all of the daily challenges a realtor would put himself in as well as many more. Being a real estate agent is more than just selling houses in Detroit. You are a sex symbol, icon, and run that city when you make it big there."
Um, ok.
At first we thought,
this can't be real, it must be some meta-funny sketch, where someone pretends to be some asshole from Jersey who's making fun of Detroit
, but a quick Facebook search shows us he actually exists.
And while we still think this was Chris' feeble attempt at satire (that no, he doesn't actually want to make this), someone needs to give him a few tips,
maybe Rudi the Cat can help
.