Photo courtesy Camilo José Vergara
Another black Snow White at Freeland and McNichols
One of the best things about my job, I think, is getting a call from Camilo José Vergara every month. The photojournalist has spent decades documenting America's inner cities, and was literally writing cover stories for
The Village Voice
when I was a teenager. Of course, the fact that he reaches out time and again may have something to do with the way
he has a book about Detroit coming out later this year, Detroit is No Dry Bones, on University of Michigan Press
.
But I think the real reason Vergara keeps calling is because, like a lot of people deeply familiar with Detroit over the years, he knows that the identity of the city is up for grabs in a way it hasn't been in living memory. And as somebody with a deep affection for the authentic urban culture and the way it expresses itself in vernacular artwork, he often offers some interesting perspectives.
The latest thing to jog Vergara's consciousness is the latest American Girl Doll, the African American "Melody Ellison" doll due out this summer that explicitly references Detroit. It's gotten plenty of overwhelmingly favorable play in the Detroit newspapers (
hey, even we did a write-up of the thing
).
the doll is the creation of marketing experts and carefully crafted sales campaigns
: "A great deal of money and a massive campaign of research went into the creation of this doll."
But what association does it set off in Vergara's head? Stay with us here: It prompts him to recall visions of another woman in Detroit who wears a bow in her hair: Snow White, and, by extension, her Seven Dwarfs.
If that sounds strange, think of it in the context of folk art and vernacular culture. It's not uncommon for a symbol to be appropriated, tweaked, and repurposed to mean something new. Vergara, of course, loves the idea of how the city prompts even cultural artifacts to adapt and survive.
Photo courtesy Camilo José Vergara
The Little Learners' Snow White, painted green, in 2009.
Over the last seven years or so, Vergara has been dropping in at the Little Learners Academy on Livernois near Pickford, where statues of Snow White & the Seven Dwarfs were erected as decoration. At first, in 2009, an old paint job was fading: Snow White's skin was green, her bow pink, her gown red. Then, when he returned, things were different: "They had been painted," Vergara said. "A staff member told me: 'We painted them brown. The kids are reminded of chocolates. They know the names of the dwarfs. A white lady wanted to buy them for a party and paint them white.' She continued, 'Painting them brown has nothing to do with race,' a statement that continues to puzzle me. When I asked the staff member if any white children attend the day care center, she told me no."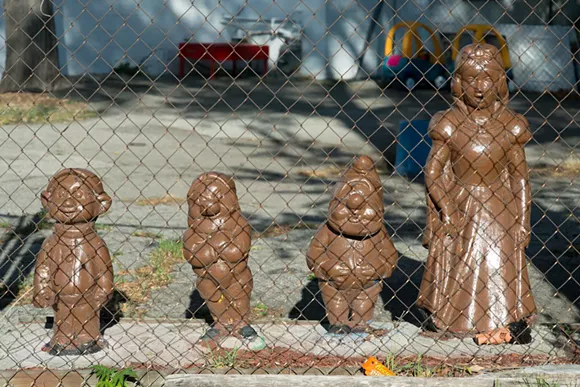 Photo courtesy Camilo José Vergara
A few years later, the figures were painted to resemble chocolate candies.
Photo courtesy Camilo José Vergara
Photo courtesy Camilo José Vergara
Another black Snow White at Freeland and McNichols
If the Snow White at Little Learners wasn't about race, Vergara found at least one that appeared to be. It's behind an overgrown fence at Freeland and McNichols, and it's Snow White with two dwarfs, but she's painted black, with a red bow, a blue cape, and a pink dress. You can tell it was lovingly painted, down to eyes that evince a sort of compassion. Vergara compares it to the iconic "Black Jesus" grotto of the Sacred Heart Seminary in Detroit. On the first day of the 1967 uprising, the face, hands, and feet of Jesus were painted black. First considered controversial, perhaps even vandalism, as
the seminary notes on its own website
: "It is now a nationally known icon representing Christ's love of all peoples, and is a point-of-pride for Sacred Heart's neighbors. The seminary has pledged to keep the features of the Sacred Heart statue black for all time."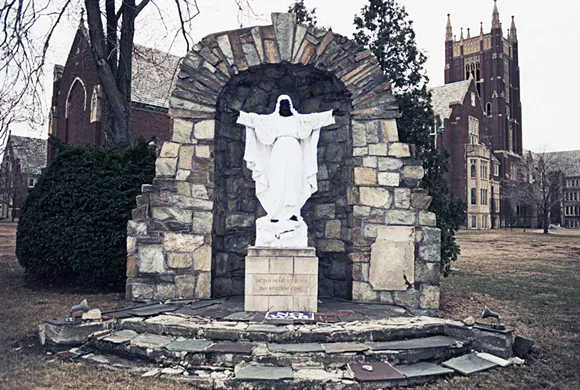 Photo courtesy Camilo José Vergara
The "black Jesus" at Sacred Heart Seminary in Detroit.
Naturally, these are the sorts of stories that fascinate Vergara, though he also understands and appreciates the appeal of upbeat symbolism in a mass-marketed doll.
"Brown Snow White and Melody Ellison represent opposite views of America," he says. "Brown Snow White appropriates popular symbols for cultural survival in the ghetto. Melody Ellison represents a celebration of the achievements of the Civil Rights Movement and of Motown music in a nation that embraces diversity. One tells of growing up in segregation and poverty on the west side of the city, the other rejoices in black Detroiters having overcome discrimination, and richly contributing to the nation."
They're both valid, but you know which Vergara appreciates more.
To learn more about Vergara and his work, see
camilojosevergara.com
.