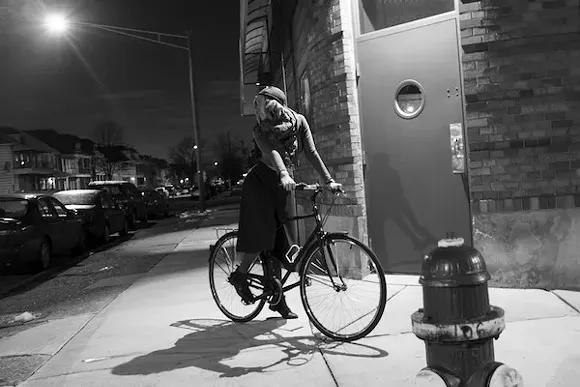 Photo courtesy Rosamaria Zamarron
Apparel by Hamtramck-based outfitter William + Bonnie, pictured here, will be among the wares on offer at the new Wheelhouse Detroit location.
As those engaged with bicycle culture in Detroit already know, the Wheelhouse Detroit is a bike rental business that has staked a claim along the Detroit RiverWalk at Rivard Plaza. For years now, owner Kelli Kavanaugh and company have given pedestrians a chance to rent some wheels, as well as to ply the nearby Dequindre Cut, among other suggested tours.
Now Wheelhouse Detroit has announced plans to open a new location in Hamtramck, at 9401 Joseph Campau St. They aim to be open by May. The expansion is going to give Wheelhouse something it hasn't had at its riverfront location: retail space.
"It's going to be mostly retail and service," Kavanaugh says. "You'll still be able to rent a bike, and the same thing with the tours: We'll still run one or two out of the shop. But I'm going to have more floor space than I do in my current location."
That means that, in addition to the basic repair stuff, helmets, lights, racks, and baskets, they'll have kids' bikes, a full range of bags for cyclists, from such brands as Chrome, Timbuk2, Green Guru, and Jandd, and some sweet rides, including such brands as Origin 8, Sun, Kona, Opus, Brooklyn Bicycle Co., and Detroit Bikes.
The new location will also have plenty of apparel and accessories on offer. "It will be apparel for people who want to live an active lifestyle," Kavanaugh says, "but maybe don't want to advertise that everywhere they walk."
That quote might accurately sum up the locally created clothing the new store will stock from William + Bonnie, a brand-new company started by Hamtramck-based Sarah Ayers. Ayers has worked as an upholsterer, designer and tailor for such high-end employers as John Varvatos. No doubt some customers will come just for the inventive, cycling-oriented clothing, which includes water-resistant sundresses with snap-button closures for riding, or a hooded rain poncho with an adjustable hood and a hidden inside pocket.
Reasons to locate in Hamtramck are many:
According to WalkScore
, Hamtramck is the most walkable city in Michigan. Although the strip along Joseph Campau still has plenty of vacancies, there is a cluster of new businesses on and off the main drag, including Better Made Bags, Bon Bon Bon, and the Polka Dot Bar. Then there's the Detroit City Futbol Club's decision to commit to playing at Hamtramck's underused Keyworth Stadium. But also,
when the Hamtramck connector is finally built
, there will be a non-motorized greenway connecting the riverfront, Eastern Market, and Hamtramck with running and cycling paths.
And, just personally, Hamtramck is a place Kavanaugh has been fond of ever since she lived there in the late 1990s, due it what she calls its "traditional main street atmosphere."
"I still consider it sort of a home," Kavanaugh says. "I have lots of friends, and there are plenty of places I patronize. So it's kind of like coming home again."