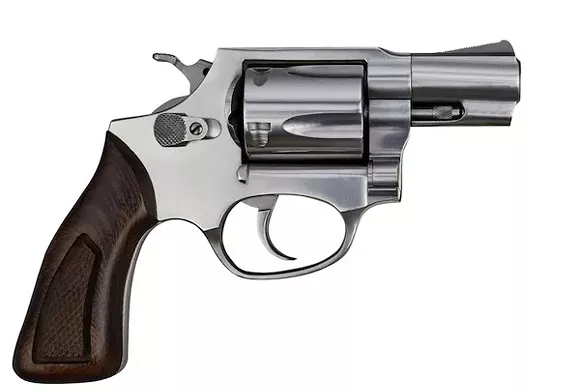 We've become pretty used to our city being used. Or re-used, that is. Over the last five years, it seems that everybody is taking Detroit apart and repurposing it for something else. It's an apt metaphor for the kinds of changes the city is going through, as a new generation finds creative uses for crumbling castoffs.
It has gotten to the point where you can buy almost anything in Detroit made of Detroit. You can purchase
eyeglasses
,
beer holders
, and even
guitars
made from reclaimed wood from Detroit homes. There are
sandals
made from Detroit's illegally dumped tires. You can find
jewelry
made from layers of Detroit graffiti, and even
terrariums
made of salvaged Detroit windows.
But here's an offer that may be the most unusual yet:
Jewelry
made from melted-down Detroit guns.
The business gets a bit of publicity in
today's account of a Wayne County gun buyback event next month
. Here's the plan: You bring them an unloaded gun and they melt it down into jewelry.
But you don't get the jewelry. A group with the high-toned name "Caliber Collection" takes the guns (and any bullet casings they can get off the ground) and turns them into chic wristlets, bangles and cuff links for jet-setters who want to slum it with a bit of edgy bling.
The Caliber Collection began as a collaboration with former Newark Mayor Cory Booker, according to the company's website, and a percentage of sales are donated to future gun buyback programs.
According to the Caliber Collection, "The oval shape of the cuff mimics the trigger cage of a gun," and the finished jewelry says "Detroit," and is inscribed with the serial numbers of the melted-down gun. Caliber Collection will even set it with diamonds; that model sells for $1,275.
So what do Detroiters get for giving up these weapons? They get a $50 gift card. Not exactly enough to make a criminal give up his gun and a life of crime, but a pretty good deal for granny on SSI.
So, remember, law-abiding Detroiters: Take those cannons out of your lockbox where they can defend you against home invaders and put them where they belong: On the sleek wrists of the well-to-do.