Last year, we got to witness something really interesting in Detroit: A design professor from the University of Michigan directing his class as they put in a park for residents. Originally, they had wanted to give the residents a really cool garden, because their coursework had all been about sustainable food production. But the residents, they discovered, really wanted more of a gathering place than a garden. So the group changed their design to be less about food and more about getting together. The professor told us that giving residents designs they want is vital. "This way, the community owns it," he said. "If this place is going to be used, people need to believe in it and understand that it's about them, not us."
If that sounds just like common sense to you, then you have no idea what the design world, particularly the architectural world, is really like. You see, what architects generally do is see the parcel of land as a blank canvas to design their masterwork, its neighbors be damned. They are determined to offer buildings that cannot be modified easily, cannot adapt in supple ways, demand to be viewed at a distance, and come from entirely their imagination. And if there's one thing architects really care about, it's their imagination. The people who have to live with the product of their imagination? Well, not so much.
Given these trends, it's hardly surprising that the
Detroit-inspired work on display at the U.S. Pavilion at the Venice Architectural Bienniale
looks interesting and appears to be completely uninformed by the people it is ostensibly designed for: Detroiters.
Here is a collection of the images released recently, including one image we created as a trick. Can you spot the image we created? Or does it seamlessly blend in with the other work?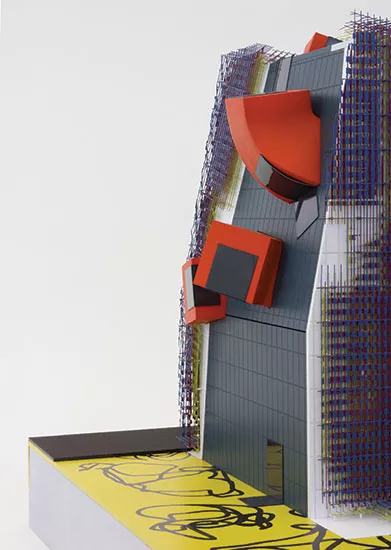 Image courtesy Zago Architecture
This is a detail of a model of a speculative project along the Dequindre Cut showing a "federal building, which deploys novel architectural forms as a means of direct political engagement." In actuality, it looks like a stuck drawbridge, with scrawling on the bottom, and a bunch of oddly shaped Nerf darts stuck to it. The only "direct political engagement" involved with this piece should be a crowd of rioters burning it down.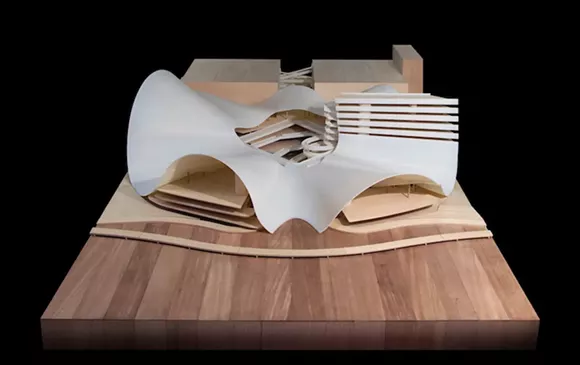 Image courtesy Preston Scott Cohen Inc.
This model is supposed to depict a post office, enclosed under an undulating roof. So what happens when the volume of mail goes up? How does one add another floor? How does this building keep up-to-date with the fast-changing world? At great cost. Just the sort of thing the troubled U.S. Post Office needs just as it has to fully fund its pensions, right?
Image courtesy Greg Lynn FORM
This model, which resembles a half-finished Habitrail, shows a cogeneration plant, corporate research centers, and movable university collaboration spaces: In short, just the sort of thing the building's new neighbors, plagued by crime, poverty, and pollution, have never asked for.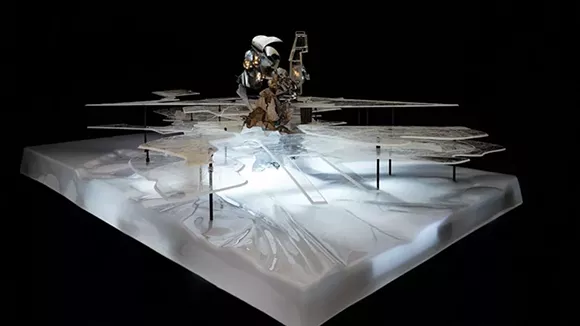 Image courtesy Mack Scogin Merrill Elam Architects
This model is said to represent interpretive layers of the Mexicantown neighborhood. While it's an interesting piece of sculpture, how could anybody say that this piece is representative of the hopes and dreams of the people of Mexicantown? Say what you will about another drab rendering showing cyclists and pedestrians, but at least those images have people in them. Here we see something strange and inhuman, another spectacular failure of design to simply listen to human beings.
Image courtesy Stan Allen Architect
This is supposed to be an observation tower and conservatory, part of a larger garden plan for the Packard Plant. What it looks like is a person tweaked on speed was given a Lego set.
Image courtesy Michael Jackman designs
This plan for Corktown involves a dentist's office, a hairstylist, and a literacy program, all embedded in a floating layer of mesh that will house factories that don't pollute, monorails that run on laughter and have soap bubbles as exhaust, and a multicultural group of residents who've been drained of any aesthetic judgment.
Image courtesy Marshall Brown Projects
This plan for the Dequindre Cut involves covering the cut with something that looks like a mixture of an Erector Set and space junk. The city gets unattractive, prohibitively costly towers, presumably reachable by a kind of technology not yet invented, while cyclists and joggers get obstructed views and jarringly ugly facades to look at.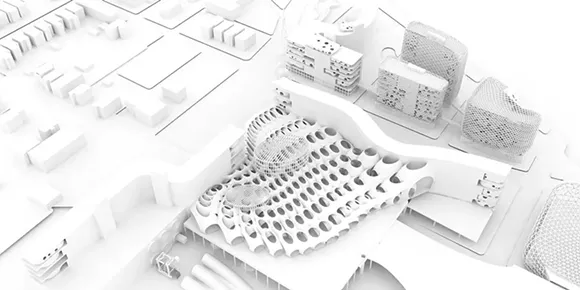 Image courtesy A(n) Office
This is supposed to be an aerial view of many things: Freight, housing, air-purification, and a Canadian consulate. It's proposed for Southwest Detroit. It's especially interesting, because something that Southwest Detroit has is history, density, neighborhood character, a heritage that involves riotous color and music, and so much more. And absolutely none of that is in this austere, cold rendering that looks like you poured a bucket of white paint over Stuyvesant Town.
Image courtesy Present Future
Corktown is wonderful, isn't it? It's full of small blocks, narrow streets, and historic architecture, about as far as you can get away from the dreary midcentury skyscrapers so common on downtown's west side, with its superblocks and parking structures. So what do these brilliant architects propose for Corktown? A glorious "New Corktown" of international-style buildings, all sited on a glorious superblock, with a line of trees to fortify it further.