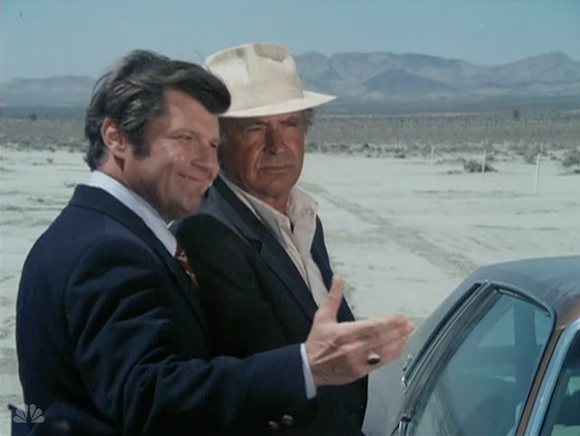 Screen capture from 'The Rockford Files'
In "The Great Blue Lake Land Development Company," a huckster tries to sell "Rocky" Rockford "lakefront" property in the desert.
Before we get to the story of the District Detroit, I'd like to take a little detour into 1970s television.
As a child of the 1970s, I've lately rediscovered a lot of the TV shows from my childhood, and I find there's quite a lot to admire about the small screen of that era. One of my absolute favorite shows is
The Rockford Files
. Like a lot of '70s TV, there's a vaguely anti-authoritarian streak to the show: The tales of private investigator Jim Rockford often have him locking horns with smooth talkers seemingly vested with authority.
One of my favorite episodes is called "The Great Blue Lake Land Development Company." At the center of the story is a company run by con men to bilk Midwestern investors out of their life savings by selling them land and shares in a community centered around a nonexistent lake in the California desert.
At its heart, the episode is a lot like "The Emperor's New Clothes," in that people see what they want to see, believe what they want to believe, based on nothing but smooth sales talk.
At one point in the show, a confidence man drives Jim Rockford's father, Rocky, out into the desert, keeping up the chatter, telling him, "It's a completely self-contained community: shopping center, markets, clothing stores, gas stations!"
The salesman stops the car and the two men get out. All around them, there is nothing but desert, a hot breeze blowing over them.
"Well," says the salesman. "What'd I tell you?"
"Where's the lake?" asks Rocky.
The salesman points to a bunch of stakes driven into the desert sand, and says, "Oh, it isn't in yet."
But he keeps up with the sales patter, talking about the unobstructed lakefront view, the nearby country club, the shade trees, the swimming, fishing, and sailboating. Rocky grows increasingly disturbed by the lack of roads, water, and electricity, but the salesman is unperturbed, blissfully urging, "Take a look, mister. Take a good, long look."
It's enough to make you wonder if the good people at Olympia Development are familiar with this episode. Look at the way they breathlessly sell their "
District Detroit
." We've joked about it before, calling it "
The City of Today, Tomorrow!
"
It's a very exciting part of town. Look at the website and you'll get a guided tour, sort of like the tour given by the salesmen to Rocky. Look no further than
Cass Park Village
: It's where investors will find a "hotbed for artists" launching "new ideas," appealing to those who crave "a tight-knit community within the boundaries of an urban city." Just wait until you see the "independent shops, local markets, and galleries" and the locals with their "free-spirited attitude that is not pretentious or flashy." You will love the "shop owners and cafe start-ups" that will offer "conversations about neighborhood happenings and current events in comfortable and casual surroundings."
The only problem? "It isn't in yet."
In short, while not exactly a confidence scheme, District Detroit is kind of a branding exercise talking about a neighborhood that simply isn't there yet.
The latest passenger to clamber into Olympia's District Detroit dream machine is none other than
Women's Wear Daily
. That magazine published
about as clever a piece of writing as can be
, delicately balancing the promises of the Olympia organization with the fact that, as far as we can tell, nothing is new in the adjacent areas.
Of course, the piece has to acknowledge that there isn't much there now, somehow. It does so by mentioning that those "independent shops, local markets and galleries," those tenants that give the neighborhood that sense of "tight-knit community," are going to be sought at some point. Olympia Development veep Mike Atwell says, "The apparel retailers we're looking for in the first couple phases will be sportswear-related. We'll try to strike a nice balance between national and local and entrepreneurs trying to build a brand."
Or to quote the salesman in the Rockford Files: "Take a look, mister. Take a good, long look."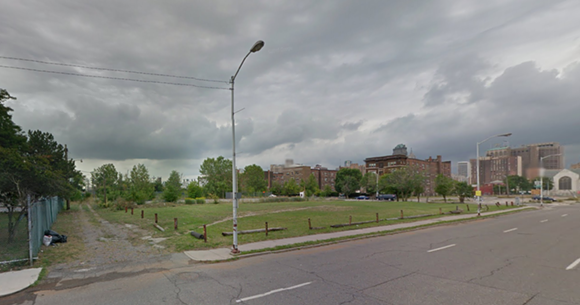 Google Street View
Second Avenue between Ledyard and Henry streets: Smack in the heart of "Cass Park Village." Do you see a neighborhood "conceived with individuality and expression in mind"?