Njia Kai is a dyed-in-the-wool Detroiter. The Cass Tech graduate has been working to promote our fair city so long that she worked for a group called the University Cultural Center Association back before it became what's now Midtown Inc.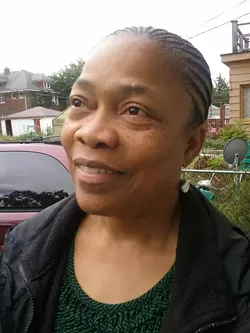 Njia Kai | Photo courtesy Matt Lee
Such is her notoriety as a Detroit-booster that the nonprofit that runs Campus Martius Park asked her to help produce the revamped park's grand opening in 2004. Her role has expanded to the point where she programs a crowded schedule of special events in several downtown parks, totaling more than 500 events each year.
As Kai tells us, the initial tagline for Campus Martius Park was "Detroit's Newest Gathering Place." In an outstanding example of a place coming full-circle, it's also Detroit's "original gathering place." You see, the park's redevelopment reclaimed a vital piece of Detroit's original design: the Campus Martius designed into the plan of Judge Augustus Woodward in 1805. Twenty years ago, that space was mostly concerned with routing traffic through downtown, and speeding commuters home after the workday. For the last dozen years, it has been reclaimed as a public space, and is now very lively.
As Kai tells us, "The development of Campus Martius was tied to a focused effort to redevelop Detroit's downtown and to support the redevelopment of the city. It seems that worked, and quickly became true. Having a beautiful landscaped green space in the middle of the city was very attractive to the workers, with a beautiful fountain. And then developing the programming has attracted visitors as well as Detroiters and folks from around the region to come down and enjoy what the park offers."
That Campus Martius would be a point of origin for the city's redevelopment also dovetails neatly with the way the space is Detroit's "point of origin" — in that all the mile roads take their names from their distance from Campus Martius.
Not only is the park again the setting for civic occasions — such as New Year's Eve festivities or the lighting of a massive Christmas tree each year — but its catalytic role in redevelopment has helped give Kai a wider purview: When the Detroit 300 Conservancy became part of the Downtown Detroit Partnership, Kai found herself programming events in not just Campus Martius and Cadillac Square, but in Grand Circus Park, Capitol Park, and Buck Park.
"It was very unique to carve out a park in the middle of downtown and to really disturb what had been a straight progression down Woodward Avenye to the river," Kai says. "But it has turned out favorably and it has really been a positive and popular attraction."
While Kai insists that she doesn't do her work alone, and that she has a great team working with her (no, unlike what our headline would have you believe, she doesn't do it all alone), she seemed the perfect person to talk with about all the fun she helps bring downtown. Here's a bit of our conversation last week:
Metro Times:
You really have 500 events in five parks all in 90 days?
Njia Kai:
Yes, we operate June to August as our summer season. The bulk of the activities happen in Campus Martius and Cadillac Square, because those are the most developed areas. But the three other parks also have programs, and the plan is that, as those areas are being developed, and residential and retail are coming in, the activities will continue to increase in those parks.
MT:
Are there some family-friendly events?
Kai:
Yes, and we definitely want to spotlight those. We have enhanced the series called Healthy Moves happening in each of the parks, with various forms of exercise. And then we have "
The Kidz Show
." It happens on the fourth Saturday from 1 p.m. to 3 p.m. At 1 p.m., we present an onstage family-oriented show. At 2 p.m., we follow that with a make-and-take activity designed by local artists. In July we'll have Matrix Theater presenting
Dot and Ziggy
. And then in August we have the Hudson Vagabond Puppets out of Orangeburg, N.Y. They are coming to do a larger-than-life puppet show with a dinosaur theme called
Mammoth's Folly
.
MT:
Is that where they have big creatures like the stage version of
The Lion King
?
Kai:
Exactly, they have big costumes. It should be a great show. But each of these shows is followed by a make-and-take activity with a theme that draws on the stage performance. And all of these activities are free and open to the public. So we really encourage folks to bring themselves and their children down to enjoy downtown Detroit and activities that are happening.
MT:
How about a little something for the adults? Will there be anything involving beer or wine or food?
Kai:
Well, every now and then there is. New to the park this year is the
Fountain Detroit
, which is a container facility that houses a full bar and restaurant at the beach at Campus Martius. What was the Bistro Café is under renovation and will open later this summer. But the facilities at the beach are functioning and very prosperous. The weather has been wonderful and really has encouraged a lot of folks to come down. We have a big after work crowd and we have
Thursday night Mix & Mingle
from 5:30 to 8:30 p.m. with a live DJ mix. And on Fridays we have a
beach party
that features Caribbean and island performances from 5:30 to 8:30 p.m. There's a lot of reggae. Food and drink is all part of that.
MT:
These are just the events that are sponsored by the conservancy. There are also other things.
Kai:
Yeah. Quicken Loans is the title sponsor for the Summer in the Park series. And Quicken has developed a sports zone in Cadillac Square that includes four basketball courts as well as a volleyball court, and there's also a game area where all the materials are provided for various games.
MT:
There are a lot of people who haven't come into the city in a while. Who stay north of either Eight Mile Road, 696 or, geez, even Hall Road. What would you say to them to try to give them a fresh look at downtown Detroit?
Kai:
I'm a native Detroiter, so I've seen a lot of the development and underdevelopment and what's gone on in the last several decades. And there was a time when most of the focus for development was past Eight Mile. And so it made sense not only that folks who lived in those areas would stay in those areas but it also made sense that residents of the city of Detroit were going out to those areas because that's where things were. We've also gone through several phases of difficulty in Detroit around safety. People have not felt safe to come into the city but that's now being worked on.
One of the major things that I say is that Detroit was a mecca for a lot of people who were looking for employment and so a lot of difficulties here we have faced and are facing have to do with the loss of significant employment opportunities in our city. And we have communities of people who now have to deal with unemployment and all of the issues that follow it. And so the efforts that are being made to bring new businesses to the city, to revitalize the employment sector and continue to develop our young people so that they are prepared to take on these new jobs and these new technologies and new industries is beginning to make an inroads. Obviously there's more work to do, but we encourage folks to come and enjoy what has been developed and what is a great time in the city. We make an effort to welcome people. We want to impress our visitors and we want to satisfy our residents.
MT:
If someone hasn't been down in Campus Martius for 15 years, I don't see how they can't be surprised.
Kai:
We get that from folks who live in the city. They come downtown and they go, "Oh my gosh!" At one point, as a child, we used to come downtown because all of the major stores were on Woodward Avenue. And then there was a period when all of that was no longer on Woodward Avenue and we got the malls in the suburbs of the city. People's habits changed. And now there is significant development and significant revitalization. So there's all of that for folks to come and look at the option to live and work and play in downtown Detroit. And we're proud of what we've done at Campus Martius to aid in that return and new look to downtown Detroit.
MT:
So, the kind of vibrant urban space that Judge Woodward had designed has finally been reclaimed.
Kai:
Yeah we're really working hard to make this a very attractive space that welcomes the citizens as well as the visitors to our city and really gives a new focal point when folks talk about Detroit, when they photograph Detroit. It's a lot to provide a very positive image and a very positive story that can now be carried across the world.


You can see a schedule of events at downtown's parks at the official website for Campus Martius Park and other downtown parks.