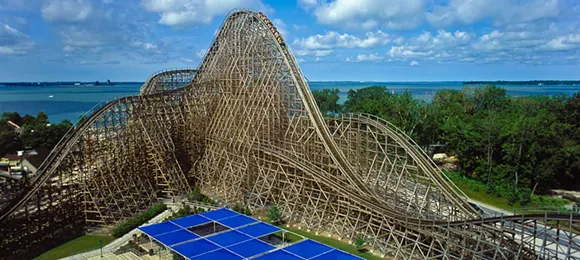 All Michiganders know Ohio is only good for one thing: Cedar Point aka "America's Roller Coast." No summer is complete without a trip to the [pretty legit] amusement park and the mere mention of its name brings back countless memories of school trips, family outings, and other nostalgic things.
Well, dear readers, soon — September 16th to be exact — one of those memories will fade to black. The Mean Streak, one of the largest wooden coasters in the world, is getting the axe. Literally.
Many people have mixed emotions about this specific coaster. If you like self torture and read M-Live comments, you'll see statements such as "good riddance, I rode it and had a headache for weeks," or "nothing enjoyable having your body rattled apart." To these, I reply, it's called the
MEAN STREAK
for a reason.
That coaster making you its bitch is like a badge of honor for any Midwestern tween. Whiplash, sore necks, a fractured rib or two.... it was amazing! I remember riding this, as a tender eight-year-old with a voracious appetite for danger. It was the first coaster I ever rode.
It kicked my ass. And I loved every second of it.
Cedar Point has yet to announce what will replace this monstrosity of a coaster, only stating on its website "future plans for Frontier Town", the lively section of the park vintagely "Wild Wild West", where you can walk into a saloon and order $16 Panda Express.
Mean Streak, it's been real. Real painful. RIP, you beautiful beast.