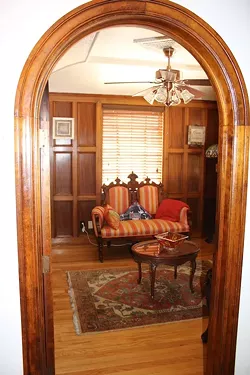 Ask the average person what a Detroit neighborhood looks like and you'll probably hear a description that sounds like Brightmoor or Delray, with vacant homes, burned-out husks, and empty parcels. And, yes, it's true, Detroit has its share of such "neighborhoods."
But thanks to all the wealth Detroit produced in its Golden Age, we still have cohesive neighborhoods built by the wealthy, as they moved on their jounrey out to the fringe. Behind them, they left Brush Park, West Canfield, Arden Park, Boston-Edison, Sherwood Forest, and more, before vaulting out of the city entirely.
One of the lesser-known enclaves of elegance would be the University District, just north of the University of Detroit Mercy. According to the University District Community Association (UDCA), "Most of the 1,400 homes in the area were built in the 1920s and 30s during the 'Golden Age of Housing.' Structural integrity, architectural detail, the caliber of workmanship and quality materials are all hallmarks of that era."
September offers folks a chance to get a gander inside some of these gorgeous homes. It's the UDCA Historic Home Tour, which presents an opportunity to see the interiors of several gorgeous homes, outfitted with hardwood floors, stained and leaded glass windows, Pewabic and Flint Faience tile, twin staircases, crystal chandeliers, imposing fireplaces, and more, perhaps even a glimpse of a late-summer garden.
I mean, these are some over-the-top homes, containing burgundy marble windowsills, marble baseboards, an etched granite rendering of Michelangelo's Creation of Adam, rhinestone cabinet handles, third-floor servants' quarters, and more. There are stories too: "One of the homes on Muirland had a kitchen fire in 1998 that led to discovery of an area that had been totally hidden; it is now renovated and in use."
Two historic churches also will be open during the tour: Gesu Catholic Church on Oak Drive and All Saints, with presenters discussing the historic significance of the churches and pointing out special features and artifacts.

It all happens 10 a.m.-5 p.m. Sunday, Sept. 11. Tours begin and end at Gesu Community Center, 17198 Oak Drive, Detroit; tickets are $18 in advance or $20 on the day of the tour; free shuttle bus will be available, or participants may walk or drive themselves. To buy tickets or learn more, see udca.info or call 248-763-8432.