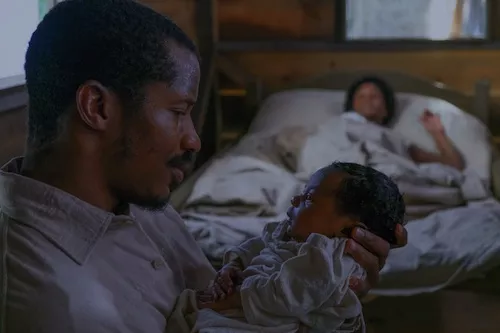 Photo by Jahi Chikwendiu, courtesy Fox Searchlight Pictures
Those engaged with black history will know Nat Turner was a slave who was taught to read, taught the Bible, and allowed to preach to other slaves around the country – and would lead a rebellion in 1831 against white slave owners in Southampton County in Virginia. But this year's film about Turner takes its name from a 1915 silent film directed, produced, and adapted to the screen by D. W. Griffith based on the Thomas Dixon, Jr. novel and play
The Clansman
.
The new film's title is an act of rebellion on the part of director Nate Parker, who told
Filmmaker
magazine, "Griffith's film relied heavily on racist propaganda to evoke fear and desperation as a tool to solidify white supremacy as the lifeblood of American sustenance. … I've reclaimed this title and re-purposed it as a tool to challenge racism and white supremacy in America, to inspire a riotous disposition toward any and all injustice in this country (and abroad) and to promote the kind of honest confrontation that will galvanize our society toward healing and sustained systemic change."
Whatever you think of Parker's act of appropriation, the film he's made is a riveting presentation of the emotion, struggle, and hope that led up to one of the bloodiest uprisings in American history. But it doesn't follow in the footsteps of previous slavery-themed films, where egregious and overt violence incite anger or disgust in the audience (think
Django Unchained
). Instead, Nat Turner's struggle with slavery and his frustration with the treatment of fellow slaves is given a more neutral presentation than you might think.
Because the film is Parker's directorial debut, I expected the focus would be just on telling this story. But the film is given a stunning visual presentation, with much credit no doubt due to veteran cinematographer Elliot Davis. Similar kudos should go to sound designer and editor Mac Davis, who makes sure you can hear the wobbles and creaks of wagons, which recall the creaking and moaning of the plantations. Between the lush visuals and immersive sound, it's just a great cinematic experience that allows you to get lost in the characters and the storyline, to be transported to another time and place.
Sure, there are moments of violence, which is to be expected, but they aren't overdone. Some viewers might expect a more violent portrayal of "breaking in" or punishing slaves, to the point where audiences will feel burning anger or be absolutely disgusted by the absurd treatment of another person solely based on their race and my connection to that race. But the film is a well-rounded portrait of Turner. I felt every emotion Turner felt: happiness, sadness, hope, love, disappointment, and finally the right amount of resentment to sympathize with him as he follows through with his plan to rise up against the white slave owners and provide himself, his family, and all slaves the freedoms they deserved.
Contrary to what many might expect, it doesn't feel like a film made solely out of spite, anger, or to demand some sort of apology. Yes, Turner was not treated like a field slave because his white owners actually found some value in his existence. That doesn't mean other slave owners didn't try to dehumanize him through their acts of violence towards other slaves. But it becomes the source of his courage and strength to lead the best-known uprising of American slaves.
Birth of a Nation
is scheduled for release in U.S. theaters Oct. 7.