Why, world?? WHYYY?!?!
If there's one thing that Trump is good at, it's his timing. Just a couple hours before he first debate of the general election, Trump released a sponsored Snapchat geofilter saying "Donald J. Trump vs. Crooked Hillary" along the top, and his ever-so uplifting "Make America Great Again" slogan tucked in at the bottom.
Oh, and there's some nifty fireworks, too, because of America.
We're not sure if Trump is trying to appeal to voters by infiltrating an app that is
primarily used
by a younger audience, or he just wants to rub it in everyone's faces that he gives zero fucks and we're all fucked and I think I'm starting to spiral out ...
Anyway, here is a selfie that I took of myself showing the app and my disdain. Happy Monday, y'all!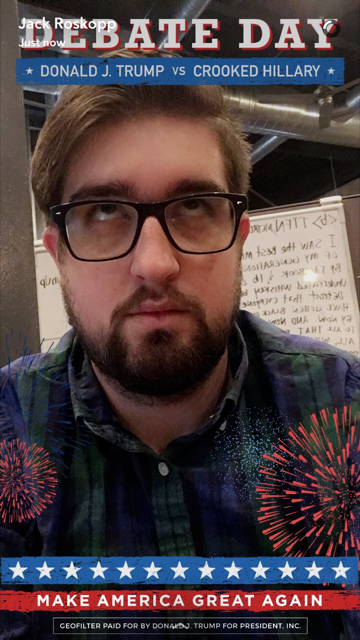 We're waiting for your geofilter, Hill!