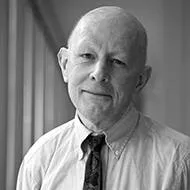 Holland Cotter. Courtesy photo.
CCS just announced that Holland Cotter, co-chief art critic for The New York Times, who was scheduled to talk this Wednesday, Oct. 5, will now be coming to CCS on Thursday, Nov. 3 at 6:30pm to give a public lecture.
Despite being based in NYC, Cotter's connection to Detroit is strong. An early advocate for Ray Johnson's work, the writer was vocal in his opposition to the idea that the DIA's holdings might be busted up in order to help cover the city's losses.
"If it proves that the worst seems about to happen, the art world should get itself out to Detroit en masse and put its communal spirit to good use: Form a human circle around the building and, in one voice, just say no," he
excellently wrote
in 2013. Cotter had previously
written glowingly
of the DIA, in 2007. It's also worth a look at his review of Todd Levin's ambitious two part
Another Look at Detroit
exhibition from 2014.
Anyway, mark it down on your calendar if it's not there alreay
Holland Cotter has been an art critic for the New York Times since 1992, winning the Pulitzer Prize for Criticism in 2009. During the 1980s he was a contributing editor at Art in America and an editorial associate at Art News. His subjects have ranged from Italian Renaissance painting to street-based communal work by artist collectives. He is currently working on a book on New York City Modernism, a study of contemporary Indian art, and a poetry manuscript.