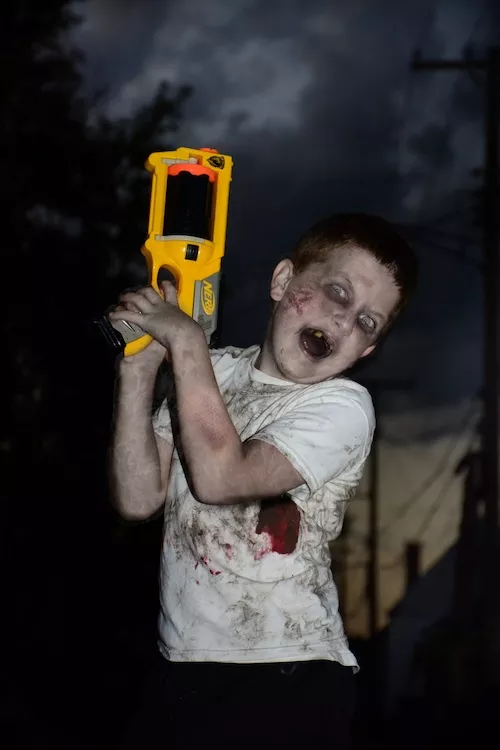 Photo courtesy Rachel Timlin
It's
creepy clowns
that are making the headlines right now, but at the end of the month it will be zombies. Specifically, zombies wielding Nerf guns.
What in the walking dead is going on here?
It's all part of a fun event related to the release of the movie Zombies, featuring Candyman star Tony Todd. The movie comes out around that time, and these zombie events have been scheduled from New York to Los Angeles to Hawaii to help promote the film while raising money for charity.
The upshot is that thousands of zombies armed with Nerf weapons are poised to battle it out in about 100 towns and cities in the United States.
Technically, the event (known as a "live-action zombie simulation") is a game. Over the course of two hours, participants will be immersed in an apocalyptic environment where sometimes they'll be zombies, and sometimes they'll be humans. Humans win if there are any remaining humans after the 20-minute round is completed. Zombies win if all humans are infected during the 20-minute round.
The rules do get more intricate, but basically participants will spend periods trying to "infect" humans and add them to their zombie horde, or to blast away at the living dead with Nerf ammunition.
It's a little pricey, at $100, but you also get tickets to the movie, an actual Nerf blaster, protective eyewear and RFID bracelet for the game, and sponsor swag that includes a T-shirt. And some of the money will go to local charities.
Plus, you might get the bragging rights of saying you were part of the "Zombie Event of the Century."
Detroit's Zombie Nerf Attack takes place at 6 p.m. Oct. 22, in William G. Milliken State Park, Detroit; participation is $100, register online at zombiesthemovie.com.