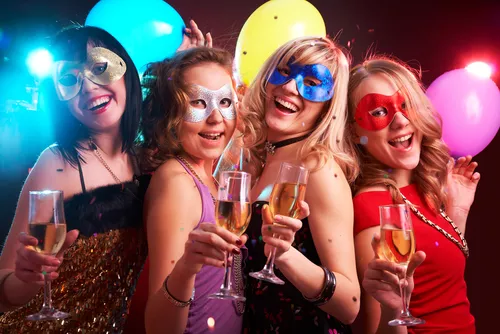 Courtesy Shutterstock
What does a Canadian feminist Halloween disco masquerade look like? We suppose it could look like this. Or not.
If you haven't seen all the "spooktacular" things to do over the next two weeks, tomorrow's Halloween Issue of
Metro Times
should just about lay all your options out for you. But one or two events always manage to squeak by our attention until after we go to press. And here's one that's so unusual we have to at least mention it.
It comes courtesy of our Canadian friends, and maybe it's a cultural thing, but there's hardly a hint of scariness to this event, unless bellbottoms and wide collars make you scream. It's more a straight-up masquerade ball, officially billed as a Halloween fantasy disco, raising money to support Windsor Feminist Theatre & HNM Dance Company. It's called Moonscape Masquerade, and it seems to take place at the headquarters of the dance company, unofficially renamed "Disco Windsor" for the event. Register early enough and you may qualify for a costume workshop this weekend.
Moonscape Masquerade takes place 7-10 p.m. Sunday, Oct. 30, at 1640 Ouellette Ave., Windsor; enter from Pelissier Street; $15 per person, $25 per couple; tickets available here; dance floor opens at 8 p.m.; first 20 people with tickets get a free costume plus an interactive mask-making workshop.