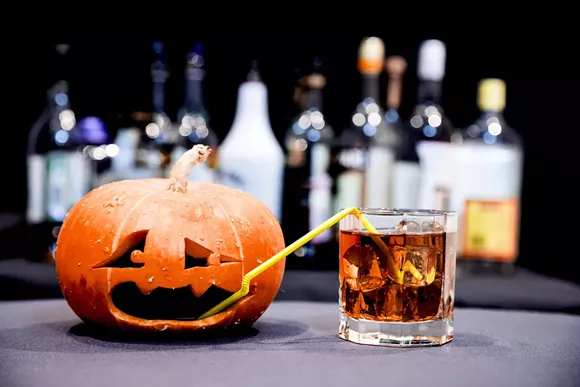 Oct. 21
Mega 80's Halloween Spooktacular
@ The Magic Bag
Grab your shoulder-padded dresses, brick phones, and satin shirts! It's time for the Mega 80's Halloween Spooktacular, which is easily the best '80s party around. The Mega 80's will be playing crowd favorites, with scenes from classic teen horror films playing on the screens. It's going to be totally rad.
22920 Woodward Ave., Ferndale; 248-544-1991; themagicbag.com
Oct. 21 - Nov. 6
Dracula
@ The Hilberry Theatre
Bram Stoker's classic Dracula is getting the stage treatment at Wayne State's Hilberry Theatre. A staple in Halloween lore, Dracula is a story that remains enigmatic a century later. In this production directed by playwright Charles Morley, the tale of the Transylvanian Count and his spine-tingling hunt of Jonathan Harker, his fiancé, and his friends comes to life.
Tickets range from $25-$30, and are $10 with a student ID.
4743 Cass Ave., Detroit; 313-577-2972
Oct. 21-22
Halloween
@ Main Art Theatre
Nothing says Halloween quite like Halloween. Seriously though, Jamie Lee Curtis' pre-Activia career has been studded with many gems, but this classic, John Carpenter horror flick will always stand the test of time. It's showing for two days at Main Art Theatre, so don't miss your chance to see it on the silver screen.
118 N. Main St., Royal Oak; 248-542-5198; landmarktheatres.com
Oct. 22
Zombie Nerf Attack
@ William G. Milliken State Park
and Harbor
To create hype for his latest film Zombies, independent filmmaker Hamid Torabpour is attempting to organize the largest Zombie Nerf Attack and make it into the Guinness Book of World Records. It's a two-hour game, where players rotate as the living and the undead every 20 minutes, so that everyone gets the chance to do both. You'll have to purchase a weapon there so that they know you're not sporting some super tricked out Nerf gun. Those 16 and older can participate as long as they're accompanied by an adult.
Registration is $100. The game begins at 6 p.m.
1900 Atwater St., Detroit; 507-676-2531; zombiesthemovie.com
Oct. 22
Dub Down's Halloween Bash
@ Works Club & Grill
With headliners Ray Volpe, London Nebel, and Nasty Nasty, Dub Down's Halloween Bash is going to be quite the extravaganza. In addition to the headliners, the event will feature 13 local acts.
Tickets are $10 in advance and $20 at the door.
1846 Michigan Ave., Detroit; 313-961-1742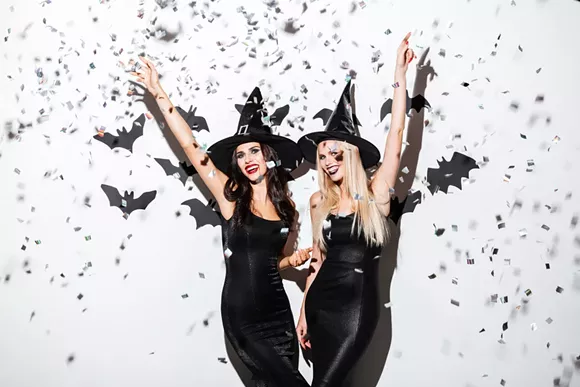 Oct. 22
Hamtramck Firefighters Haunted Fowling
@ Fowling Warehouse
Fowling, which combines bowling, horseshoes, and football, is what Hamtramck's firefighters invite guests to do in celebration of Halloween. If the game sounds daunting, don't worry. There will be plenty of people there to help. In addition to fowling, there will also be a costume contest and plenty of raffle prizes.
3901 Christopher St., Hamtramck; 313-876-7778; hamtramckfirefighters.com
OCT. 22
Beautiful Nightmares
@ Jam Handy
A professional makeup competition and costume party are coming to New Center with Multimedia Makeup Academy's "Beautiful Nightmares."
Makeup artists will compete for $4,000 in cash prizes in a runway-style contest decided by judges from the film industry, along with an amateur costume contest, food, drinks (tickets include two), and silent auctions.
Proceeds from "Beautiful Nightmares" will benefit Sanctum House — a safe house for survivors of sex trafficking — and the Northwest Oakland Abolitionist Hub, a nonprofit that works to end human trafficking.
It sounds like a classy party for a good cause to us.
7 p.m.-midnight, 2900 E. Grand Blvd. in Detroit. 21-and-up. As of press time, tickets are $45, $65 for VIP, and $90 for contest entry. Visit beautifulnightmares.net for more information.
Oct. 22-30
Haunted Detroit
@ Wheelhouse Detroit
Maybe partying isn't quite your thing, or you want some more options. For the week leading up to Halloween, Wheelhouse Detroit will feature their Haunted Detroit bike tour, which shows off some of the city's spookiest landmarks. The tour costs $30, and you're going to want to bring/rent a hybrid or road bike.
1340 Atwater St., Detroit; 313-656-2453; wheelhousedetroit.com
Oct. 23, Oct. 30
Ghosts of Piquette Tour
@ Piquette Plant
The Piquette Plant, better known as the birthplace of the Model T, has a pretty unique way of bringing history to life. Or rather back from the dead, for that matter. For the Ghosts of Piquette Tour, the plant will be filled with "ghosts" that will tell visitors about the early days of the factory, and will let them go into the plant's dark, creaky spaces. Tickets are $18.
461 Piquette Ave., Detroit; 313-872-8759 Ext. 2; fordpiquetteavenueplant.org
Oct. 27-29
Damned: An Exhibition of Enlightened Darkness
@ Tangent Gallery/Hastings Street Ballroom
As always, the three days of Damned are going to be a party. More than a typical Halloween party, this art exhibit will satisfy those looking for fancy food, a masquerade ball, and an overall high-brow experience. Plus, the event's raffle proceeds will go to Burners Without Borders, a charity that helps the homeless by giving out survival backpacks.
715 Milwaukee Ave., Detroit; 313-873-2955; thatdamnedshow.com
Oct. 28
The Haunted Banquet
@ Vintage House
This Halloween bash's lineup is headlined by DJ Godfather, DJ Chrome, and Rod Batayeh on percussion and includes a $1,500 cash costume contest, complimentary pizza buffet, fortune tellers cauldron cider from Blake's, an outdoor heated tent, and free rides home within a 5-mile radius.
Tickets $45; Doors at 8 p.m.; 21 and up; 31816 Utica Rd., Fraser; 586-415-5678; thehauntedbanquest.com
Oct. 28
Stay & Play Social Club's Boo Bash
@ Royal Oak Music Theatre
Stay and Play Social Club's annual Boo Bash is going to be a good time. There are individual and group costume contests, and the prizes are a $400 league voucher for groups, and a $100 voucher for individuals. Tickets are $32, but that price includes cover, entertainment, and three alcoholic beverages. It's a steal.
318 W. Fourth St., Royal Oak; 248-399-2980, royaloakmusictheatre.com
Oct. 28
The Nightmare Before Christmas Halloween Party & Movie Night
@ HopCat Detroit
What's this? What's this? The HopCat will host an entire party devoted to Nightmare Before Christmas! Guests are encouraged to dress up as Jack, Sally, or whoever their favorite character from the cult phenomenon is. Tim Burton fanatics, rejoice. If your costume is good enough, you could be one of the lucky top three who receive a gift card. The event starts at 6 p.m., but the screening won't start until 8 p.m. It's only $4 to get in, so don't skip it.
6 p.m.; 4265 Woodward Ave., Detroit; 313-769-8828; hopcat.com
Oct. 28
Covenfest
@ Small's
Covenfest is back again this year with Rob Zombie vs. Marilyn Manson, Nique Love Rhodes and the NLR Experience (as Missy Elliott), the Scrappers (as the Flying Burrito Brothers), Queens of Noise (Joan Jett/Runaways tribute), and School of Rock (as the Ramones). Covenfest is going to be a great time this year, and as you can see by that lineup, there's something for everyone. The suggested donation to get in is $10, and all proceeds are going to Turning Point, a shelter for survivors of domestic violence.
8 p.m.; 10339 Conant, Hamtramck; 313-873-1117; smallsbardetroit.com
Oct. 28
Creepy Cheapy IX
@ The Crofoot
It's creepy, and it's cheap. There will be free candy, a candy-eating contest, a costume contest, and a killer lineup. Performances include Ironsnake (as Judas Priest), Courtney and the Hurleys (as Dolly Parton), Shapes and Colors (as My Chemical Romance), Stikyfut (as Radiohead), and many more. If that isn't your thing, there will also be all-night dancing on the patio (Erno the Inferno and Ryan Spencer as DJs), as well as vintage tiki lounge music in the cafe from Sister John Misty.
1 S. Saginaw St., Pontiac; 248-858-9333; thecrofoot.com

Oct. 29
Haunted High Tea
@ The Whitney
The Whitney's annual Halloween Celebration may already be sold out, but their Haunted High Tea is not. This is a treat that you can bring the kiddos along for (adult tickets are $50, and children 10 and under are $30). The Whitney's special guest, Dracula, will be in attendance, and guests will receive a special "spooky gift."
4421 Woodward Ave., Detroit; 313-832-5700, thewhitney.com
Oct. 29
Monster's Ball
@ The Fillmore
Monster's Ball is back at the Fillmore once more with stilt-walkers, illusionists, acrobats, and more. Local DJs like Al Neon and Tommy Holiday keep the party going with sick tunes until 2 a.m. Also, if you're a student at Wayne State, bring your student idea and you can take a free shuttle from the Dunkin Donuts on campus.
2115 Woodward Ave., Detroit; 313-961-5451; thefillmoredetroit.com


Oct. 29
Nightmare on Woodward: Returns…
@ Bleu
In the words of Destiny's Child, "The club is jumpin' jumpin'." This is exactly why you need to be at Bleu on Oct. 29. In addition to the many DJs who will be spinning until 4 a.m., there will be live performances by LuveLovesYou and the Native. To add to the fun, there will be a costume contest. Don't forget Bleu's dress code, though — you've got to look your best to get in. General admission is $10.
1540 Woodward Ave., Detroit; 313-974-7799; bleudetroit.com
Oct. 29
Blood on the Mitten Book Tour
@ The Next Chapter Bookstore & Bistro
Author of Blood on the Mitten: Infamous Michigan Murders 1700-Present, Tom Carr, will be in Northville to promote it. The book focuses on more than 50 murders ranging from crimes of passion to calculated horrors. Carr, an award-winning journalist, not only takes readers right into the heart of these chilling tales, but also lets readers in on what happened to the community after. At the Next Chapter Bookstore & Bistro, readers will have the chance to hear Carr speak about the book and get some more insight.
141 E. Main St., Northville;
248-465-0010; readnextchapterbooks.com

Oct. 29
The Haunted Kingdom Halloween Party
@ Michigan Motion Pictures Studio
The Haunted Kingdom is trying again to break the Guinness World Record for largest Halloween gathering, and it definitely is bringing its A-game this year. The event, which describes its attendees as "Detroit's sexiest ghouls and goblins," will certainly be something to see. Also, there will be a slew of performers and shows, as well as costume contests to participate in. Tickets are currently $20.
8 p.m.; 1999 Centerpoint Pkwy., Pontiac; 248-671-3486; hauntedkingdom.com
Oct. 30
Twiztid's Frightfest Devil's Night Edition
@ Majestic Theatre
Unfazed by the creepy clown epidemic that's sweeping the nation? Really wishing you could see something sorta like ICP? Twiztid's Frightfest Devil's Night Edition is the answer for you. Yeah, you'll definitely get to see Twiztid, but you'll also get to see Mac Lethal, Zodiac Mprint, and Lex the Hex Master. You need to get your ticket if you haven't yet.
4140 Woodward Ave., Detroit; 313-833-9700, majesticdetroit.com
Oct. 30
Devil's Night Zombie Blast
@ Elektricity Nightclub
So, this looks a little bit crazy, but also like a total blast. There will be three DJ's on the main stage, as well as another three lined up for the patio. In addition to the general raving that you'd expect at Elektricity, there's going to be "250 gallons of green slime vs. foam." With that said, it seems like it's going to be a raging good time. Tickets are $12.50.
15 S. Saginaw St., Pontiac; 248-599-2212; elektricitymusic.com
Oct. 31
Halloween Harvest Dinner
@ Rock City Eatery
Detroiters may love Devil's Night and Halloween, but what we love more than anything is good food. Rock City Eatery's Halloween Harvest Dinner is going to be a bounty of fine cuisine. The meal will cost you $100, but it's six courses of autumnal delights including Squash Bisque and Pumpkin Chocolate Pie. Yum.
4216 Woodward Ave., Detroit; 313-265-3729, rockcityeatery.com
Oct. 31
Adventures in Babysitting, The Lost Boys
@ The State Theater
Oh boy. Say hello to the night. So, The State Theater is starting off the evening with Adventures in Babysitting, which, if you haven't seen it, is kind of like Ferris Bueller's Day Off, but with Vincent D'onofrio as a mechanic who truly resembles Thor (it'll make sense once you see it), and Bradley Whitford (Joshua Lyman from The West Wing) playing a douche-y college kid who's clearly too old to be in college. It is fitting that they would choose what is arguably the worst/best Halloween movie that exists to end the night. The Lost Boys is a movie that everyone needs to see. It has Corey Haim and Corey Feldman in it, there are very campy vampires, including Bill from Bill and Ted's Excellent Adventure, who plays an extra, there's a crappy cover of "People Are Strange," at one point Corey Haim is wearing a "Born to Shop" T-shirt, and his bedroom features a shirtless Rob Lowe poster. That's all you need to know. Tickets are $10.
233 State St., Ann Arbor;
734-761-3531; michigantheater.org/state/