Wed, 11/16 - Sun, 12/11
Dot
@ Detroit Public Theatre
Colman Domingo's latest hit play Dot, is a holiday comedy that touches on some sensitive subjects, like dealing with watching your parents' age. The plot is this: Dotty's three kids have grown up, and they're all home for Christmas. Her adult children watch as she struggles to remember things, and deal among themselves with how to balance care for her. It's a story that many people have experienced themselves, and it's a story that can be poignant and funny at the same time.
Shows start between 2 p.m. and 8 p.m.; 3711 Woodward Ave., Detroit; detroitpublictheatre.org; Tickets are $20 - $45.
Thursday, 11/17
Young Thug
@ Royal Oak Music Theatre
Straight from the Dirty South scene, Jefferey Lamar Williams (Young Thug) has "come from nothing." Growing up in Atlanta's Jonesboro South projects, rap gave Williams the chance to change his life. Since becoming active in 2011 and the release of hits praised by fellow rappers and critics like Donald Glover and Stoner, Williams has worked with Kanye West, Rich Homie Quan, Waka Flocka Flame, and Gucci Mane. Now, he tours with his self-titled mixtape, Jefferey, which has been met with much critical acclaim.
Doors open at 7 p.m.; 318 W. Fourth St., Royal Oak; royaloakmusictheatre.com; Tickets are $35-$100.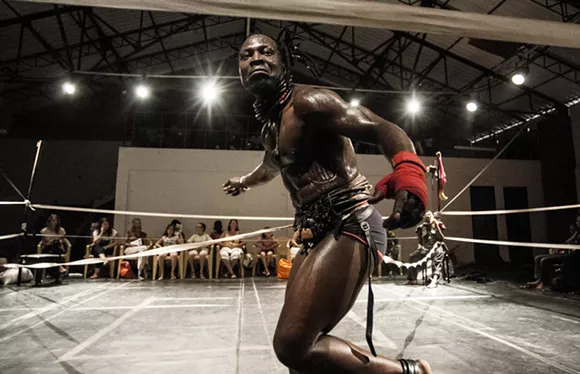 portrait of myself as my father @ Downtown Boxing Gym. Courtesy photo.
Thur, 11/17 - Sun, 11/20
portrait of myself as my father
@ Downtown Boxing Gym
Zimbabwean choreographer Nora Chipaumire brings to life the story of her estranged father, and of African masculinity, in a boxing ring. It breaks down the stereotypes of African men, and shows through movement that both traditional and modern ideas of masculinity can exist within one man — Chipaumire's father — through his different specters.
The shows start between 2 p.m. and 8 p.m.; 6445 E. Vernor Hwy., Detroit; ums.org; Tickets are $40.
Thursday, 11/17
After Dark:
Wizardry and Wonder
@ Michigan Science Center
"Are you a witch or what?" If you are, then come on out! Step back into the Potterverse, because it will always be there to welcome you home. In celebration of Fantastic Beasts and Where to Find Them's release, the Michigan Science Center is holding a special event for witches, wizards, and muggles alike. In Potions Class, you won't have to deal with a grumpy Severus Snape, and you'll watch witches and wizards show you "magic," in Astronomy, you'll see the constellations that inspired the names of some our your fellow wizards, in Care of Magical Creatures there will be a real, 10-foot Burmese Python. Remember to keep your wands at the ready.
The event starts at 5 p.m.; 5020 John R St., Detroit; facebook.com/michigansciencecenter; Tickets are $15-$20.
Thur, 11/17 - Fri, 11/18
Royal Oak Market: Art Fair Edition
@ Royal Oak Farmers Market
The Guild of Artists & Artisans, who put on the Ann Arbor Summer Art Fair each year, have ambitiously taken on a new event, the Royal Oak Market: Art Fair Edition, which promises to be as diverse and exceptional as Ann Arbor's festival. The juried event will feature 95 artists, as well as beer, wine (conveniently located near the glass section of the festival), coffee, sweets, and three gourmet taco trucks. The Royal Oak Public Library will also be there to entertain children with stories, crafts, rhymes, songs, and more art-themed fun.
The event begins at noon both days; 316 E. 11 Mile Rd., Royal Oak; theguild.org; Admission is free.
Friday, 11/18
Rusted Root and Devon Allman
@ Saint Andrew's Hall
We'll send you on your way … to see Rusted Root. Whether you've been a fan since their 1992 debut album, Cruel Sun, or you just really liked that scene in Ice Age, it's going to be a bunch of fun. The Pennsylvanian band is unique in its fusion of Native American, African, and Latin sound. Devon Allman, son of Gregg Allman, has an extensive background in the blues and rock scenes in the South, and should not be missed.
Doors open at 8:30 p.m.; 431 E. Congress St., Detroit; saintandrews.com; Tickets are $20.
Christmas Tree Lighting @ Campus Martius. Courtesy photo.
Friday, 11/18
Campus Martius Tree Lighting Ceremony
@ Campus Martius Park
It's the holiday season again, and that means it's time for the 13th annual Campus Martius Tree Lighting. Presented by DTE Energy, the tree will feature all of the lights. The event will also mark the opening of the park's ice rink this year. A before party for the opening of the rink will be put on by Channel 95.5, and Olympic gold medal ice dancing team Meryl Davis and Charlie White will dazzle crowds with their grace
The event start at 5:30 p.m.; 800 Woodward Ave., Detroit; campusmartiuspark.org; The event is free and open to the public.
Friday, 11/18
The Fray
@ The Fillmore
Don't lie to yourself: Every red-blooded American can identify at least three songs by the Fray: "How to Save a Life," "Over My Head," and "You Found Me." Their fourth album, Helios, was released in 2014, and it was pretty impressive. They've been darlings for 96.3 WDVD since 2005, so it's no surprise the "Everything but the rap" radio station is sponsoring the show. They'll be joined by American Authors, who gained a considerable amount of airtime with their insatiably catchy pop hit, "Best Day of My Life."
The show starts at 7 p.m.; 2115 Woodward Ave., Detroit; thefillmoredetroit.com; Tickets are $15 - $65.
Friday, 11/18
Craig Owens
@ The Shelter
Former Chiodos frontman and Michigan native Craig Owens, known for his alternative and R&B influences, has fused both genres throughout his musical career. He has worked with Dr. Dre, D12, and Jon Conner, and now he is prepared to release his first solo EP on Nov. 18. He's coming home for this release, which marks a pretty big departure from his work with Chiodos, which was pretty solidly post-hardcore.
Doors open at 6 p.m.; 431 E. Congress St., Detroit; saintandrewsdetroit.com; Tickets are $15 in advance and $18 at the door.
Saturday, 11/19
Black Bottom & Paradise Valley Tour
@ Detroit Historical Museum
Take this tour and you'll learn about two former areas of Detroit rarely spoken about. First there's the 67-block neighborhood of Black Bottom, named for the areas dark, fertile soil. Then there's Paradise Valley, just north of Black Bottom, which used to be a bustling entertainment district with over 300 African-American owned businesses. You'll learn about the five-star African-American hotel that used to sit in Paradise Valley, as well as how Prohibition and illegal lotteries affected the area, which was eventually shut down by the government.
The tour starts at 10 a.m.; 5401 Woodward Ave., Detroit; detroithistorical.org; Tickets are $15.
Saturday, 11/19
Flosstradamus
@The Masonic Temple
After performing at Panorama, Lollapalooza, Bonnaroo, and headlining at HDYFEST, hip-hop duo Flosstradamus will bring their tour — and their "bunker stage," which features real cannons — to Detroit. Emerging from Chicago's hip-hop and trap scene, which they certainly helped to revitalize among youth who had found it to be inaccessible, Flosstradamus has been able to make a name for themselves past city limits. After their successful single and almost love song to their hometown, "Came Up," the group is getting more and more recognition, and will definitely be a treat for Detroiters.
Doors open at 8 p.m.; 500 Temple St., Detroit; themasonic.com; Tickets are $35 in advance and $45 the day of.
Sunday, 11/20
Silent Night
@ Detroit Opera House
Pulitzer Prize-winning opera Silent Night tells the story of one of the most amazing moments in world history: the Christmas Eve 1914 cease-fire between the French, German, and Scottish soldiers during World War I. Based off the French film, Joyeux, Noel, the opera features all three sets of soldiers singing in their respective languages of French, German, and English, to add to historical authenticity. Since 2012, Silent Night has been a must-see for opera-philes across the globe, and will certainly be a must-see for Detroiters this holiday season.
Shows start 2:30 p.m. and 7:30 p.m.; 1526 Broadway St., Detroit; michiganopera.org; Tickets are $29 - $152.
Sunday, 11/20
Slim Cessna's Auto Club
@PJ's Lager House
Called "gothic Americana" by some, Slim Cessna's Auto Club is not and has not ever been your stereotypical Tennessean uncle's brand of country music. The band has enjoyed a 24-year run so far, and their latest album, The Commandments According to SCAC is as exciting is ever. Their sometimes Velvet Underground-esque, sometimes punk rock-esque, sometimes gospel-esque take on what Spotify would classify as simply "Country" if you looked it up is decidedly alternative. The newest album, which is too hard to classify to a single genre, is awesome.
Doors open at 8 p.m.; 1254 Michigan Ave., Detroit; pjslagerhouse.com; Tickets are $8.
Benny "Jet" Speer of Benny and the Jets is profiled in the 'Nothing but Music' documentary screening at the Token Lounge.
Sunday, 11/20
'Nothin' but Music' premiere
@ The Token Lounge
First time filmmakers Eric Harabadian and Lisa Hagopian host a world premiere for their debut full-length documentary shot in and around Detroit, Nothin' but Music. Live entertainment will be provided by some of the key musicians who appear in the film. "They risk, they endure, they achieve their dreams on the varied roads to a life of … Nothin' but Music" is the tagline for the documentary on local journeyman musicians. The movie demonstrates the creativity and perseverance it takes to have a lifelong, full-time career spent entirely dedicated to music. The film devotes extra time to musicians Benny "Jet" Speer (who's been at it for 40 years) and blues guitarist Howard Glazer. Additional insights are provided by garage icon Question Mark, flutist Alexander Zonjic, poet-activist John Sinclair, singer Eliza Neals, and others.
Doors at 7 p.m.; 28949 Joy Rd. Westland; admission is $5.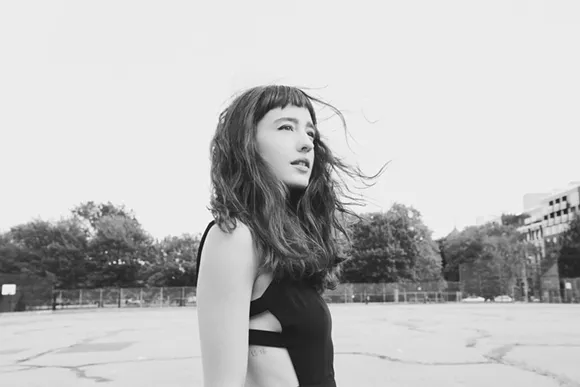 Victoria Reed will perform at the Magic Bag.
Sunday, 11/20
Victoria Reed with Holly Bernt
@ The Magic Bag
Victoria Reed, daughter of Alto Reed, was nearly a teen pop star at 14, but decided to pass up on selling out on the artistry of her music. Time went on, and Reed left music behind. She went to college, and life got really difficult. She found herself alone with a pack of tarot cards, and pulled a chariot card for her future, which meant that she could triumph. She dropped out of college in her last semester before graduation, and seized her destiny. Now, Reed has indeed triumphed. With lilting, floaty tracks like "Make It Easy" and "All My Power" Reed's vocal abilities and songwriting abilities are highlighted. Holly Bernt is one of Detroit's favorite musicians. Her voice is classic and hearty, and she's proven she's powerful and electric acoustically. She's also bluesy, folksy, romantic, and definitely tough.
Doors open at 8 p.m.; 22920 Woodward Ave., Ferndale; themagicbag.com; Tickets are $10 in advance.
Wednesday, 11/23
Mike Young, Steve Soul and Friends
@ The Crofoot
Writer, director and comedian Mike Young will be back at the Crofoot with DJ Bam to bring a night of music and comedy. You might recognize young from Showtime, The Late Show, and from directing Netflix film A Stand Up Guy.
Doors open at 8 p.m.; 1 S. Saginaw Rd., Pontiac; thecrofoot.com; Tickets are $25.
Tue, 11/22 -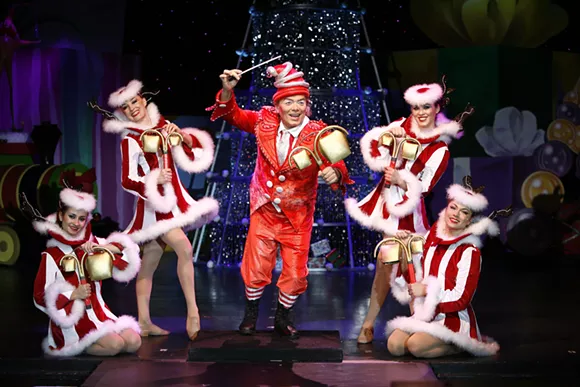 Cirque Dreams' Holidaze performances happen at the Fox Theatre.
Sat, 11/26
Cirque Dreams Holidaze
@ The Fox Theatre
A holiday variety show called a "cirque show ... Broadway musical … and family Christmas spectacular all in one!" by The Washington Post, Cirque Dreams Holidaze is in its eighth year of enchanting audiences around the nation. The show, which features singers, original music, 20 acts, 30 artists (some of whom have been on America's Got Talent), and over 300 costume changes, is a delight for kids and adults alike.
The shows start at 3 p.m., 7:30 p.m., and 8 p.m.; 2211 Woodward Ave., Detroit; ticketmaster.com; Tickets are $25 - $66.