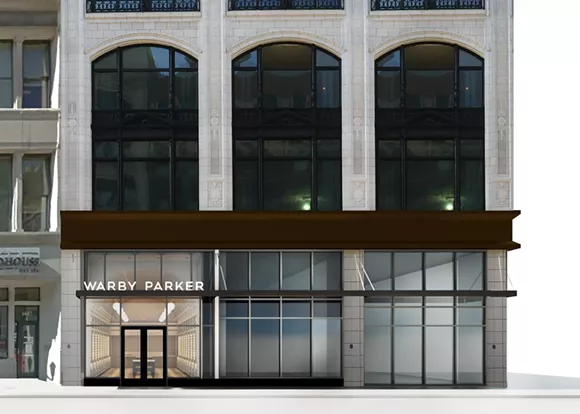 Let's just start by saying that I knew nothing about eyeglass maker Warby Parker before receiving a press release about their new location in downtown Detroit. Well, in an attempt to do some research I found myself on their website and now have a raging lady boner for a certain pair of black plastic frames.
Anywho.
Earlier this week Warby Parker announced they'd be opening a location in downtown Detroit, the old location of the Vernor's Pharmacy on Woodward to be exact. It's the same place that a guy named James Vernor created the Detroit classic Vernor's Ginger Ale. So, you know, that's pretty cool.
The photo below is a rendering of what the store will look like, as you can see, it's going to be a pretty classy joint.
If you, like me, have never heard of this brand before, here's a little background: The company's basically brand new. It was started in 2010 and is named after two characters from a Jack Kerouac novel. OK, please take this time to make all your hipster jokes now. Done? Great.
The company makes super hip eyewear, but it's actually reasonably priced, which is good news for poor millennials and people without insurance. Specs start at $95, a price that also includes prescription lenses. If you've worn glasses since third grade, you'll understand what a bargain this is.
Better yet, you can bring in your own prescription and buy a pair without going through the eye exam process (Someone explain to me why the air-puff-in-your-eyeball test hasn't been replaced with new technology.) and pick them up about a week later.
Warby Parker opens on Saturday, Nov. 26. It'll be open 11 a.m. to 7 p.m. Monday through Saturday and 11 a.m. to 6 p.m. on Sunday. It'll be located at 1449 Woodward Ave., Detroit.