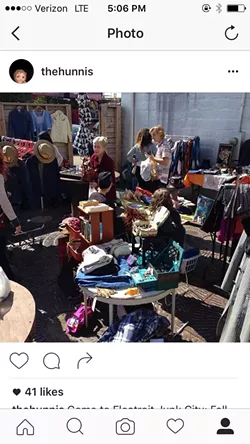 Screenshot courtesy of Fleatroit.
Have you ever been to one of these things? At the last "Fleatroit" I attended, I got some garage rock 45s, a rad replacement copy of that hilarious book
Nico: The End
by James Young, and a framed vintage Boblo advertisement.
In advance of the next one which goes down this
Sunday at the Outer Limits Lounge in Hamtramck
,
Metro Times
spoke with one of the organizer/sellers, the singer-songwriter
Kelly Jean Caldwell
, to get her take on what it's all about. She answered our questions in one guy, so they are presented below:
"The Fleatroit Junk City crew consists of myself (Kelly Jean Caldwell), Kara Meister, Andrea Morici, Aran Ruth, Johanna Berger, Chad Gilchrist, Marcie Bolan and a rotating host of numerous friends and fellow junk collectors.

We've done 5 five or six of these events and it's never exactly been the same line up of vendors. It depends where we do it, how much space we have and most importantly WHO'S GOT THE GOOD JUNK! For me the best part is getting together with these guys who are some of my best friends, having a beer and checking out each other's bounty!



At the last flea I scored some absolutely killer '70s sunglasses from Andrea's booth and my husband got an early '80s Tubby's hat from Chad that is just sick. It's hard to say what the best thing I've ever gotten is. A lot of the fun in selling together is without a doubt buying from each other. There is always a real variety from booth to booth. Some people focus on jewelry or housewares. Some have more of a collectible or knick knack vibe. Some people sell books and records or one of a kind hand made items.


Photo courtesy of Fleatroit.
For my part, I mostly collect and sell vintage clothing from the 60's through the '90s. I love old regional stuff and this time I'm selling a rad WRIF tshirt and a really perfect, early '80s Red Wings sweatshirt, both of which would make excellent gifts to the right Detroit nostalgic. I've also got some really beautiful gowns I'm stoked on and they are priced to sell, baby! This flea is different in that it's a holiday thing so every body is really trying to focus on gifts and holiday apparel.

That being said, we are a bunch of freaks so our idea of great gifts and cool clothes MIGHT be a bit different than some but we've had success pedaling our weird wares thus far! This event is also featuring the famous Timmy's Tacos for your eating pleasure, you can have your picture taken with Santa as played by Frank Woodman.

And if you bring a donation for the Ruth Ellis Center, we will enter you in a raffle for a one of a kind Fleatroit Junk City Groovy Gift Basket."