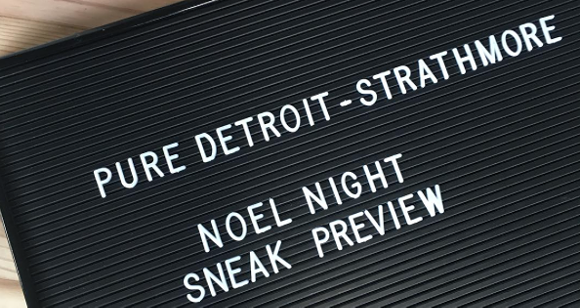 Local retailer and champion of all things Michigan-made, Pure Detroit announced today that it plans to open a Midtown location. The shop, which will be the fifth in Pure Detroit's fleet, will be located inside the Strathmore at 70 W. Alexandrine, just off Woodward Avenue.
The Strathmore serves as a luxury apartment building and is an architectural stunner. According to a press release the building open in 1924 as a hotel, but was transformed and reopened after a $28 million renovation. The building also offers a restaurant space and adjacent retail space. Coupled with a booming Midtown's booming retail scene, the choice to make the Strathmore Pure Detroit's newest location seems like a no-brainer.
Noel Night patrons will get a sneak peak of the shop on Dec. 3, when the location will open its doors for the annual Christmas celebration. According to Pure Detroit's PR rep, the store will open permanently sometime in December.
The shop will sell Pure Detroit's usual stock of brand apparel, seatbelt belts, books, art, home goods and hometown gifts fill out the product mix, plus the store will debut a home lighting line by Leadhead Glass, along with a line of special edition 'Spirit of Detroit' seatbelt handbags.
Pure Detroit currently has locations in the Fisher Building, the Guardian building, and the Renaissance Center with an outpost in the Belle Isle Aquarium.