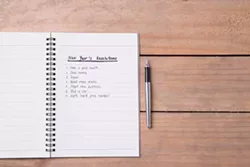 Of 150 U.S. cities, Detroit came in dead last in a ranking of the best places to keep your 2017 resolutions. Salt Lake City, UT came in first, and that part does seem a little weird — until you know what the findings are based on.
The study, done by WalletHub, factored in 48 key points including the number of obese adults, median annual income (hint: almost half of Detroiters make below the federal poverty level), the public school system, the percentage of smokers, illicit drug use, employment outlook, job satisfaction, high school dropout rate, and others.
According to data collected from U.S. Census Bureau, Bureau of Labor Statistics, Substance Abuse and Mental Health Services Administration, U.S Department of Housing and Urban Development, Council for Community and Economic Research, Centers for Disease Control and Prevention, and other groups, Detroit had the highest unemployment rate, the lowest average credit score, and ranked in the bottom five of lowest median annual incomes among the 150 cities.
If that news seems less than inspiring, you can always just take into account the fact that regardless of this study, 80 percent of New Year's resolutions fail by the second week of February anyway. You can read the whole WalletHub study
here
.