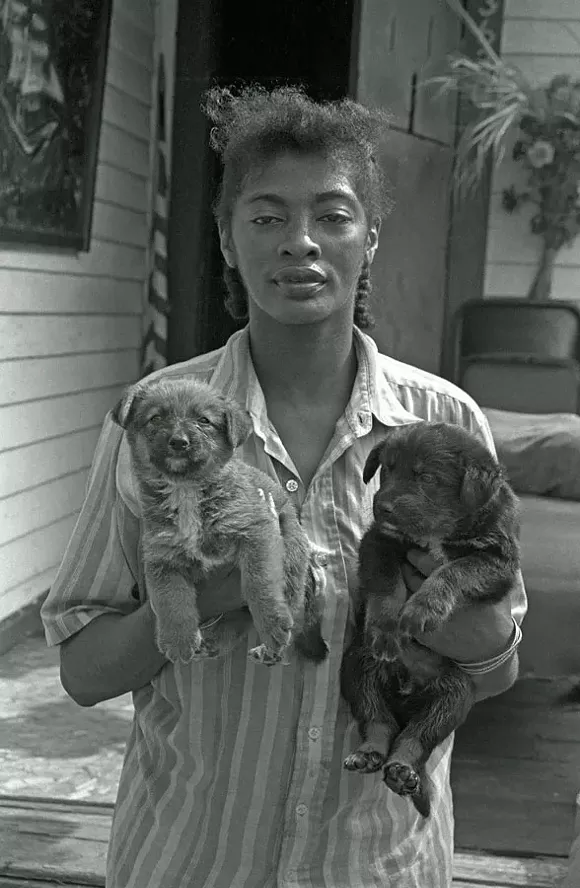 Photo courtesy Bruce Harkness
"Woman with Puppies, Detroit," by Bruce Harkness
Some artists gain fame instantly. Others work quietly for years, building up a body of work that suddenly bursts onto the scene and gains all the acclaim it has long deserved.
For the most part, photographer Bruce Harkness is one of those latter artists.
Over the last several years, the talented lensman has been putting on show after show displaying his historic photos of Detroit and Hamtramck that date back to the mid-1970s, when he was a student living in the inner city. He brought out old prints of residents of the near east side for a show called
East Side Stills
seven years ago. Two years ago, he drew on his
photos taken in the fading days of Poletown
, when the neighborhood was being demolished for the General Motors plant that now straddles Detroit and Hamtramck.
More recently,
his show of photos featuring classic views of Detroit's skid row, the Cass Corridor
, was a real eye-opener, especially for a younger generation that's only seen the neighborhood as it is now, all aglitter.
This new show is sort of a grab bag. It features dozens of shots from several different eras and places in metro Detroit, from 1975 to just last year. You can expect the gritty shots of Poletown and Cass Corridor, views of Brush Park, but also blues musicians hanging out at Hamtramck's long-gone Attic Bar, and even a few shots of a suburban hangout for kids in Dearborn.
The show,
Bruce Harkness: Greatest Hits!
, opens with a reception 6-9 p.m. Saturday, Feb. 18, at the Oloman Cafe, 10215 Joseph Campau, Hamtramck. The show will be up until March 18. At 8 p.m. on March 11, Harkness will give a photo talk on Ed Thiede, a lifelong Poletown resident who lived an "ordinary, extraordinary life."
Photo courtesy Bruce Harkness
A shot of the Guyton Family, Lillian (mother), Carllitta, and Andre, who lived in a small, four-unit, wood-sided apartment building on Dubois Street at Willis. Harkness says, "Today there is no evidence that a structure ever stood on that corner."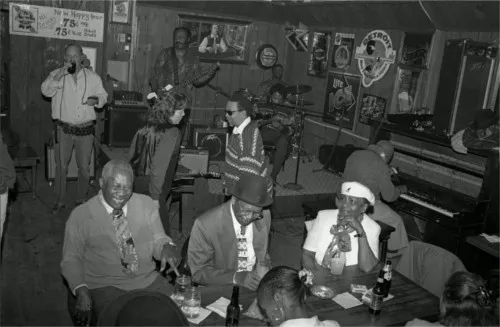 Photo courtesy Bruce Harkness
Blues at the Attic Bar in Hamtramck.
Photo courtesy Bruce Harkness
Mayor Coleman Young in the one-time roost of Orville Hubbard? It happened. Harkness says, "Coleman Young spent a half-day in Dearborn for the annual Mayor Exchange Day, while Mayor Michael A. Guido went to Detroit, in May of 1991. This photo was taken in a reception room in the old Dearborn City Hall."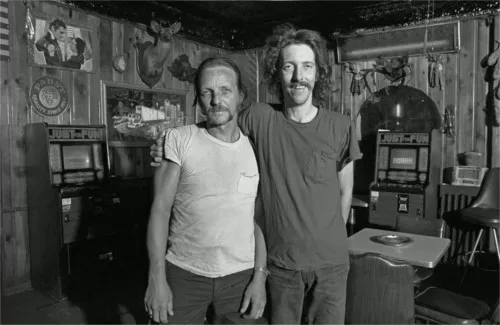 Photo courtesy Bruce Harkness
This photo, titled "Buddies," shows two friends hanging out at the Buckhorn Inn. Harkness says, "The Buckhorn Inn stood for years on the corner of Ferry St. and Dubois. It burned down around 1990. It was situated just west of the still extant but abandoned Chene-Ferry Market. The owner was Walter Miller."
Photo courtesy Bruce Harkness
A band captured mid-set at the Zone Coffee house on Michigan Avenue on the east end of Dearborn. Harkness says it was open "from 1994 to early 1998, when it was closed by the Dearborn Police." No fun, indeed.