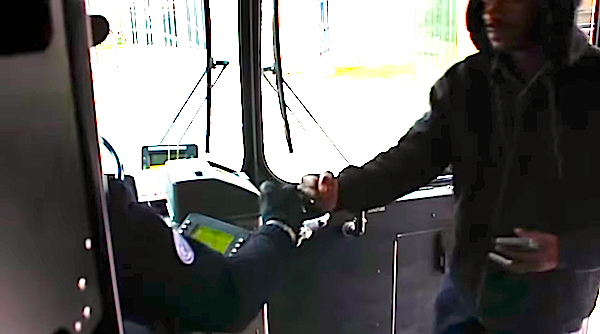 Freeze-frame from the No Angles video
DDOT bus driver Larry Dennis Starkey greets a passenger boarding the 53 Woodward bus.
Detroit may not be the easiest city to live in, but nothing helps you get by quite like an outgoing, friendly personality. Taking that extra moment to say hello, ask somebody how they're doing, or even offer a handshake or dap can change the whole tenor of any encounter. You can likely attribute it to the largely Southern flavor of our Northern burg, but it's a quaint embellishment in our swipe-and-enter-your-PIN world that works wonders even in tense situations.
That sort of interaction inspired a few local videographers to zoom in on welcoming, friendly DDOT bus driver Larry Dennis Starkey. He's the subject of
the inaugural video
on their fledgling
YouTube channel
, No Angles. The video features Starkey telling how he got saddled with the moniker "Boo Yah" and turned around and adopted it as a nickname. These days, "Boo Yah" cheers up passengers on the 53 Woodward bus, where he thinks of himself as a modern-day "stagecoach operator" — one who aspires to be "the best driver out there on the streets." Have a look: