Tommy Thunder Rocks is one handsome pup. And while he has a blocky head, broad shoulders, and coloring that makes him appear to the average person as a pit bull terrier, he actually belongs to a different breed.
Tommy is an American bully breed, a descendent of the pit bull terrier that's only been recognized by the United Kennel Club since 2013. According to Tommy's owner, Robert Thompson, the dogs have been bred to eliminate typical terrier qualities, making their name something of a misnomer.
"The American bully is a companion dog, a cosmetic breed," Thompson says. "They've been cross-bred to get rid of that terrier mentality while maintaining the appearance of a pit bull terrier."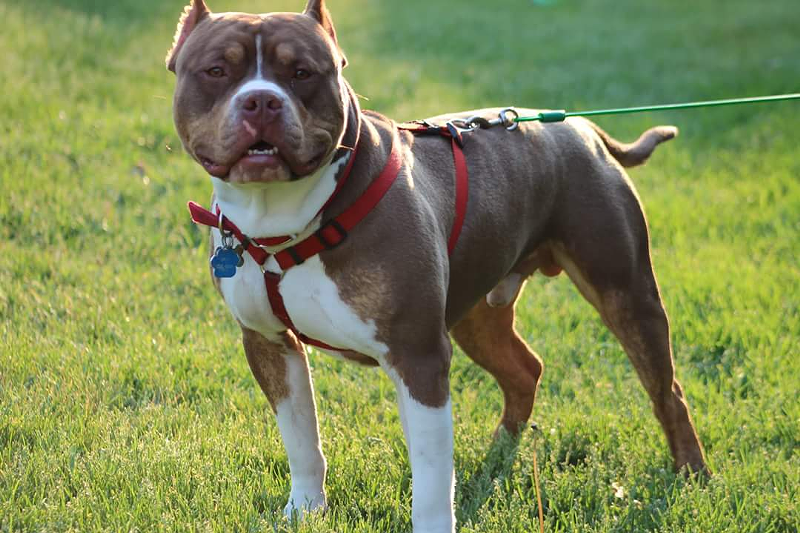 Thompson says that while American bullies are more demure than their doggy dopplegangers, there is still a stigma that comes with that wide, floppy mouth.
"There is an uneasiness within the community over pit bulls. We hear news stories, 'Five pit bulls maul a little girl,'" says Thompson. "I want people to know there is a difference. The way a dog looks doesn't reflect the way they act."
Thompson says the breed faces some adversity in winning championships because many owners aren't versed in paperwork protocol that documents the dog's breed, parentage, breeder, and owners.
But, Tommy's owner is paving the way for other American bully breed owners to train show champs. Last week he received word from the United Kennel Club that Tommy Thunder Rocks was the first American bully breed to earn a UKC show campion title in the state of Michigan.
Now dog handling is a family affair for Thompson and his two children who take turns handling Tommy during dog shows. Thompson says his son showed the dog last weekend, gaining some recognition for the pup. His daughter has also taken Tommy into the ring.
"To get an American bully breed into the ring is a lot harder than a golden retriever," Thompson says. "We're a local family that would like to continue to be ambassadors for our breed and continue to shed a more positive light on something that has come from such a dark, shaded past."