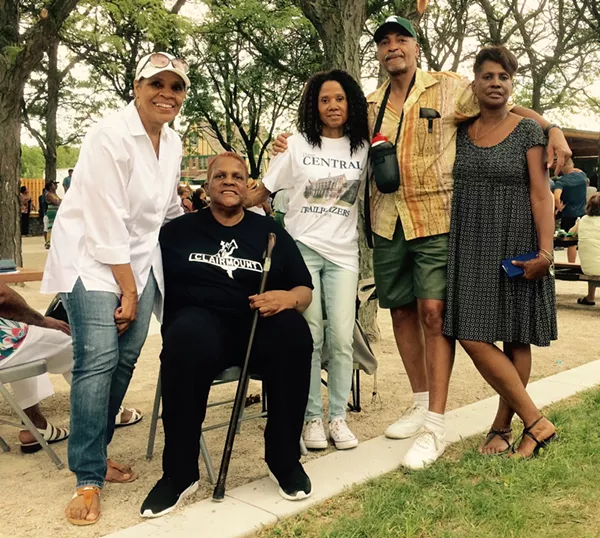 Dave Mesrey
From left to right, Charlene Crossley, Carolyn Colvard, friends Jan McDonald and Douglas Hall, and Loretta Holmes.
These old friends and Central High School alumni were in the infamous after-hours club above Economy Printing on the morning of July 23, 1967, and lived to tell the tale.
Charlene Crossley (at far left) left the club shortly before the raid, but sisters Carolyn Colvard and Loretta Holmes were arrested that morning by Detroit Police and taken downtown in the back of a paddy wagon.
Holmes, who was 17 in 1967, was going down the front stairs with her best friend Carolyn Calloway sometime between 2:30 and 3 a.m. when a sledgehammer came smashing through the door.
"​I saw a big white face in a white shirt and tie, and we ran back upstairs," Holmes says. "It was chaos. We could hear banging in the other rooms. The police were nailing the doors shut so that there was only one way in and one way out. Then they made us all get in a line. They weren't beating anyone, but people just didn't know what to do. By the time we got outside, they had four or five paddy wagons out on 12th Street and they were stuffing us in like sardines.​"​
The raid sparked Detroit's
1967 summer of civil unrest
. To mark the 50th anniversary on Sunday, the three reunited at the corner of 12th and Clairmount.
"We didn't plan to meet here today," Holmes said. "I guess you could say it was fate that brought us together again."