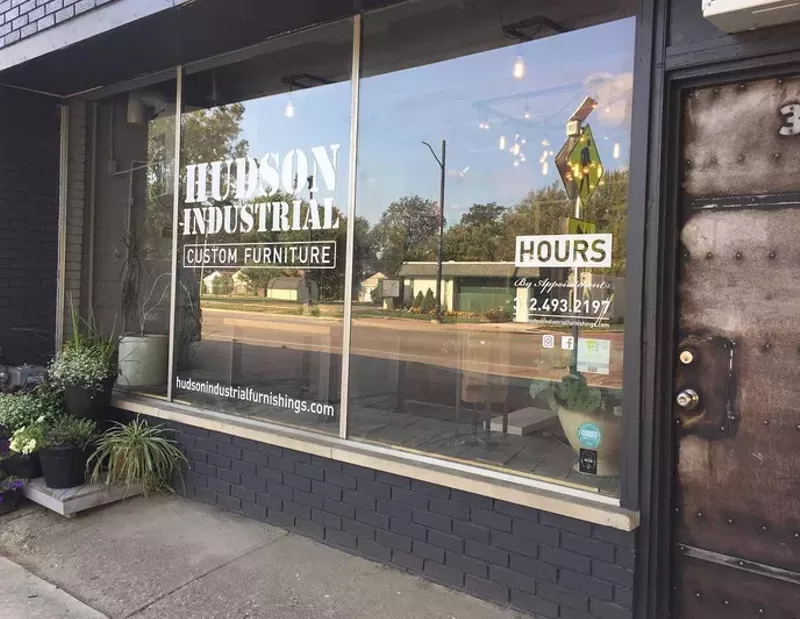 all photos courtesy of Dave Hudson
Dave Hudson has been making furniture for years. In fact, in 2015 he petitioned us to write about his fledgling business, and
we couldn't resist
. At the time, Hudson was selling his earthy pieces out of Ferndale's Rust Belt Market, but now he's moving into a spot that's all his own.
While he's used the space as a workshop for some time now, Hudson says he will open 3259 Hilton as a retail storefront this Saturday. A sign in the window says the shop is open by appointment, but Hudson says it will be open most days, most of the time.
Hudson's work includes both large and small scale items.
"The shop will be open six or seven days a week, during normal hours while I am there making stuff," Hudson tells
Metro Times
in an email interview. "The show room will be open as long as I am there, but sometimes I run out for supplies, work offsite, make deliveries, etc., so during those times obviously the store would be closed."
Just one of many successful small businesses to graduate from the Rust Belt Market, Hudson is proud that he's built the company on his own, noting that he's never borrowed money or even used a credit card for capital.
"One of the things that I take a lot of pride in is the fact that I do all the work myself, and I've never had any sort of business loan or crowd funding. I built my first coffee table out of scraps in my garage and sold it, I took that money and bought more supplies made more stuff."
Hudson does custom orders, but his shop will also be fully stocked with items that can be purchased off the floor. He says they range in price from $250 to $1000. His stock includes bars, dinner tables, coffee tables, side boards, and other items cast from wood (reclaimed and otherwise) and industrial metals. But, to Hudson, the space is more than just a shop.
"I want the store to be more than a store, I want it to be an experience," Hudson says. "You can come in and look at finished pieces and look through a window and see me working."
Hudson Industrial Furnishings opens to the public on Saturday, Sept. 16 with a celebration from 4 to 9 p.m. It is located at 3259 Hilton Rd., Ferndale. For more info go to
hudsonindustrialfurnishings.com