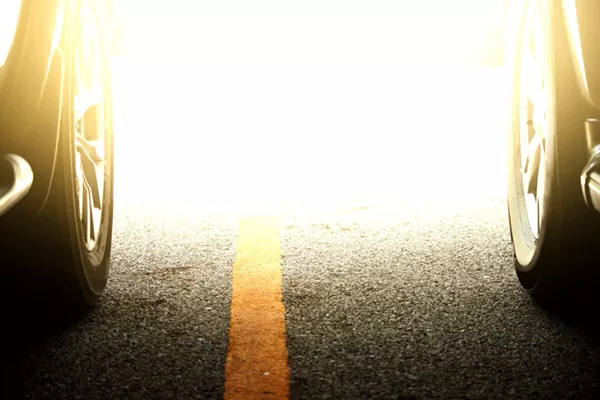 Professional racers know a thing or two about crossing finish lines, but not every race is about speed. The road to getting the necessary approvals to put on Detroit's first-ever legal drag racing event was a matter of endurance for Detroiter Brian Olatunji.
Since the Detroit Dragway, known as the "Dirty D," closed in 1996, racing enthusiasts looking to satisfy their need for speed have had to look elsewhere. The racetracks closest to city limits are FasTrak Exotic in Grosse Ile, where patrons pay to drive expensive cars, and the Hazel Park Raceway for horses, according to the Michigan Economic Development Corporation. Drag racing in Detroit has since been marked by a street scene infamous for illegal races and daring stunts that later show up on social media, but Olatunji aims to shake that precedent with a safe, community-oriented showcase that still offers all the flash and thrill.
To get a head start on the drag racing event speeding towards the Detroit City Airport on Sept. 23,
Metro Times
caught up with Olatunji to learn more about the road to Motor City Showdown.
Metro Times: I understand you're a Detroit native and now a professional race car driver, can you tell me about your story and how you got into the driving scene?
Brian Olatunji: Yes, I am a native Detoiter, born and raised on the east side. Actually, not very far from where we're going to be conducting the Motor City Showdown at the Detroit City Airport. I got involved with racing by way of my family's involvement. My grandfather managed Detroit and Motor City Dragway beginning back in 1971, and so my family's pedigree was on the management side and I'm a first generation driver. I literally grew up at the racetrack. From the time I was conceived until I was old enough to hold a plastic steering wheel, I always had ambitions to become a professional race car driver.
MT: The Motor City Showdown obviously took a lot of work to put together, can you tell me about how you brought it to life and who supported the project?
Olatunji: This came about by way of a vision. Obviously, French Road, and me coming from the east side of Detroit. I'm well aware of the history of French Road from an illegal street racing perspective. So, there was always this vision to bring that same excitement that I've experienced all over the world to my hometown. Given that it is the Motor City, we thought that it would be a great opportunity to be able to share that with the community. ... I do want the people to know that as a Detroiter that's from that area, you can have a vision for something, and although, we absolutely encourage corporate dollars, this is something that is a passion project and is being funded by yours truly. However, we do have some support in the form of sponsorships, but the majority of it has been taken on by my company [Leadfoot Motorsports, LLC].
MT: I know that you've just talked a bit about your team, but do you have any city partners that have been helping you to pull this event off as well?
Olatunji: The city has been instrumental in ensuring that we received support in the wake of approval that's required in order to host this event. We certainly want to thank Mayor Duggan and his office for the support that we received, and we absolutely want to thank Chief Craig. He's done a phenomenal job of championing this cause, in terms of bringing a race to the city of Detroit.
MT: I know it took some time to get the required FAA approval, when did you guys start this journey? When did the vision first begin?
Olatunji: It's something that we've been working on, and we've been very fervent in ensuring that we obtained all the proper approvals and support. So, it's a couple of years in the making.
MT: What was happening during those years?
Olatunji: A tremendous amount of planning to pull off an event of this scale. The safety aspect is paramount, and that's why we're grateful for the support of DPD and our public safety community, as well as the mayor's office for ensuring that we can pull off a safe event. So, that's paramount. The other side of it, is actually designing a show that we can bring to the people that would be both entertaining and would also peak their appetite.
MT: French Road does have that background of illegal street racing, but this is going to be an organized event. Are you doing any work to stop illegal racing/driving and encourage more people to drive in an organized and safe manner instead?
Olatunji: I want to make it clear, I am not an advocate for street racing and that's not where my background lies. It does not lie in illegal street racing, I was just merely making a point that I grew up on that side of town and was well aware of the street racing scene. The objective of this event, is a show. It's to showcase the phenomenal men and women who are in the area that build badass hotrods and that drive them, from the fabricators to the engineers to the crew, the crew chiefs and ultimately the drivers — and showcase that we have some of the best in the world, and they're right here in the Motor City.
MT: The event is coming up on the 23rd, do you have anything you're particularly excited about that guests coming to the show should be aware of?
Olatunji: Absolutely. One of the other things is the support from Underground Resistance. They have been a tremendous partner of working with us on the music side, because we believe that both hotrods and horsepower, as well as music, are synonymous, like peanut butter and jelly — or we'll say Coney sauce on a hotdog for the sake of the D. So, Underground Resistance is something that we're absolutely looking forward to at the event. Obviously, the racing is going to be spectacular. We have a hell of a show that is planned with some unique hotrods that you aren't going to see anywhere else is this kind of environment… and not just because it's on the City Airport, but because we're going to have a unique twist the day of the show.
MT: Can you tell me about the unique twist?
Olatunji: The unique twist is that we're going to bring some of those elements that you would see in street racing, in an organized format. Obviously, this is an organized, legal event, but some of those aspects that you see in street racing will be incorporated in our show. … The cars are very unique in their own right, and they're dramatic, so they'll provide entertainment as soon as they turn the engine on.
MT: You've talked a lot about this being a safe, family-friend environment. Just to clarify, what you you doing to make sure this is safe? Are there going to be barriers? Police presence on site?
Olatunji: No doubt, we're working very closely with DPD. We will have a very strong show of force from the Detroit Police Department, we'll also have our own private security as well. In addition, we've taken every precaution. That's a part of that beautiful struggle the past couple of years, is making sure that all of the safety aspects are adhered to, from the barriers to where exactly the spectators are going to be.
Motor City Showdown will be held on Saturday, Sept. 23 at Detroit City Airport, 11499 Conner St., Detroit. Gates open at 3 p.m.; racing beings at 5 p.m.; car show runs from 3 to 9 p.m.; event closes at 9 p.m. Tickets are $20 and available at motorcityshowdown.com.