It seems fitting that William Bevan keeps his studio in a rather unassuming space. The artist, who is responsible for dressing up Detroit with his vibrant murals, houses his art inside a once-abandoned, recently renovated theater in Southwest.
Bevan is one of many New York-based artists who made the great migration to Detroit in search of affordable living and a more welcoming creative environment. His artwork occupies a small room — it's a curious combination of light-hearted, aesthetic-based rhythmic paintings and more daunting "anxiety-into-ecstasy" works that were made leading up to the election of The 45.
The latter group is made up, almost entirely, of distorted faces layered with Bevan's signature shape-like rhythmic patterns. For him, the shapes represent the on-going mutations of civilization, and he used the 2016 presidential election as fuel.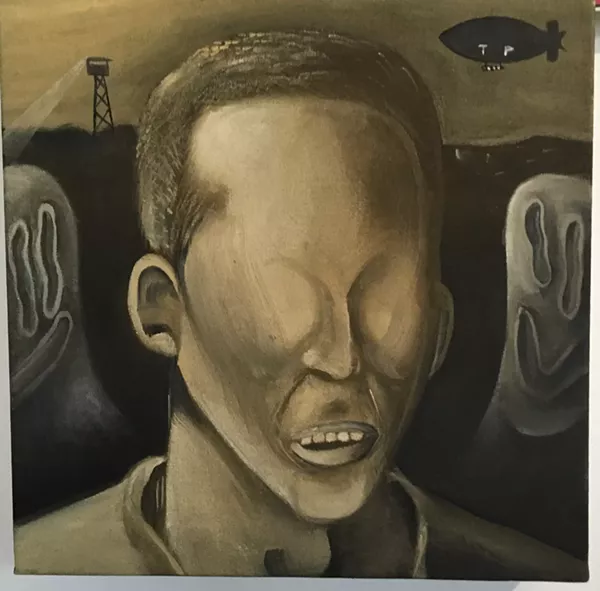 "These patterns were born out of the transition of power and the perceived transformations of society," Bevan says. "The obscured faces are adapted from videos of people at Trump rallies. I would use the most fanatical person on the screen and use them as my springboard. These paintings are about anxiety into ecstasy for those people. I wanted them to seem fast and fleeting."
The paintings feel dark, apocalyptic, and eerily prophetic. In one particularly morbid piece, ghastly creatures moan in the forefront while a dark Klan-like figure lingers behind.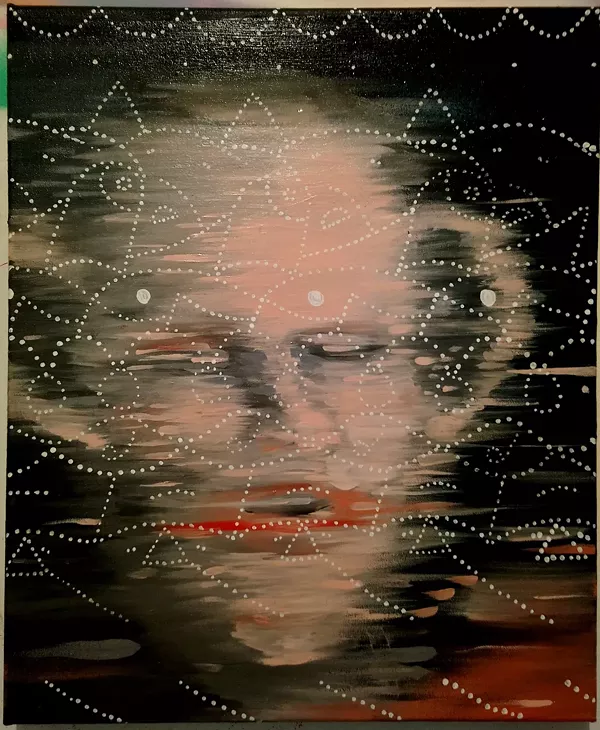 "I was playing around with the anxieties of the impending election — the ghostly figures and Klansmen were painted before our president was elected," Bevan says. "I was sort of feeling this foreshadowing of strange hatred bubbling from different corners of the world."
Bevan's unnerving pre-election work is a stark contrast from his shape-shifting rhythmic paintings. These are about experimenting with what is and isn't an object. They make for fun, hypnotizing murals, like Bevan's most recent mural in Eastern Market, "Some Eggs," a mind-bending visual of a bunch of chickens and eggs melding into one another. It's considerably lighter fare than Klansmen and ghosts.
Judging by the prevalent rhythmic patterns in Bevan's work, it's no surprise he has a deep history with music as well as visual art. A multi-instrumentalist, Bevan started playing the drums at age 12 and later picked up the bass, keys, guitar, organ, synthesizer, and more. "These could all just be musical instructions from aliens," Bevan jokes of his rhythmic paintings. The artist explains that, while people often try derive meanings from his more abstract works, sometimes it's just about having fun and experimenting with shapes.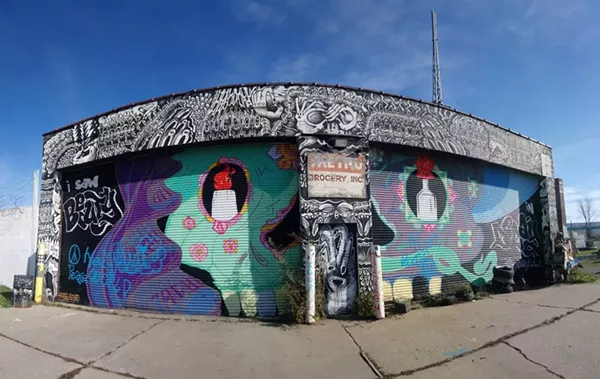 His latest work especially leans on that mentality. Currently, an entire wall of his studio is covered in a series of indiscernible figures Bevan calls "shape walkers," a concept that came out of a collaboration with New York artist Stefan Gunn. Initially, they wanted to make screen prints of a shape that walks — and possibly sell them.
"But, I'm not really actively trying to sell these prints," Bevan says. "I'm somewhat of a bad capitalist."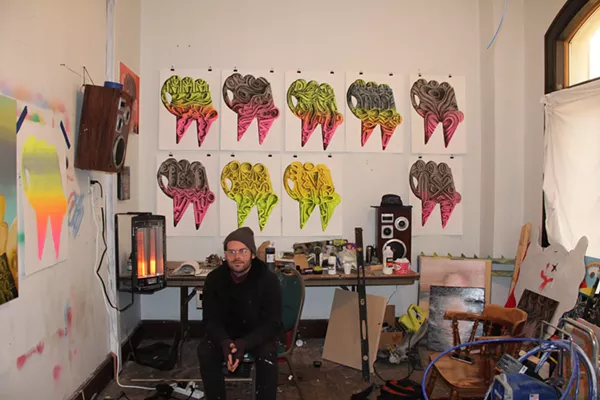 Sara Barron
Bevan inside his Southwest Detroit studio.
Aside from his shape walker prints, Bevan is also working on a large mural on Baltimore between Second and Third. You can see his work in progress there, or visit a few of his many other murals in town on Tillman and Michigan or Kercheval and McClellan.