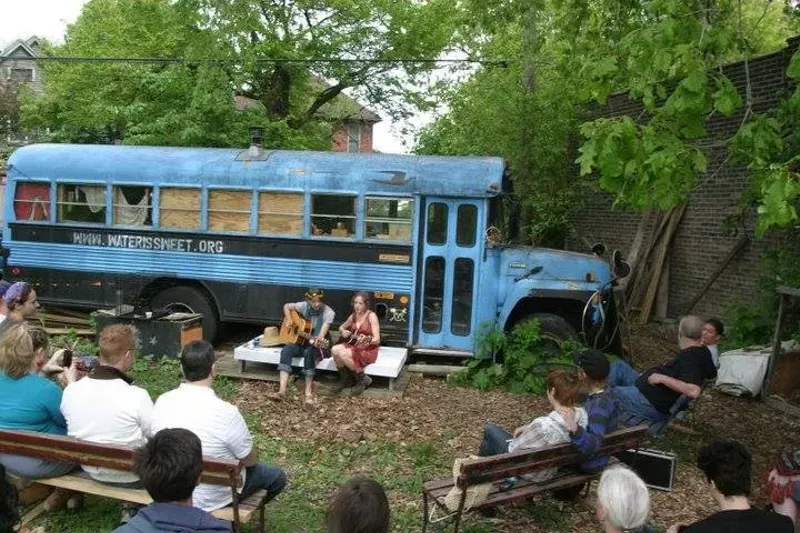 Trumbullplex Facebook
"Economic catalysts" at the "business incubator" of the Trumbullplex, circa 2010.
As people in the news business know, this is a time of year when breaking news generally takes a back seat to those year-end, rear-view mirror-type pieces. As a hard-working reporter, you can chip away at these pieces all year and then drop them into the news stream over the busy holiday season, allowing you to take some time off. (I know it because I'm
guilty as charged
,
again and again
.)
But there was one of these backward-gazing stories that caught our eyes this morning:
a very interesting piece by Louis Aguilar in The Detroit News on the alleged death of the underground art scene in greater downtown Detroit
.
Whenever it was, the era of downtown as a haven for Detroit's artistic underground is over, say many longtime cultural observers. The rent nowadays is just too high. With the increasing number of crowded office buildings, popular restaurants and residences — some with waiting lists — the amount of underground and experimental performance space and dirt-cheap housing is no longer there.
It was an interesting stroll down memory lane, going back 50 years to
the days of the Detroit Artists Workshop
and following some of the grimier locales where underground art held sway, including many places
Metro Times
has zoomed in on over the years, including the
Freezer Theater
, Gold Dollar (
we were there when it closed in 2001, looking back on five years of coverage
), D'Mongo's Speakeasy (
we were there a decade ago
),
the Trumbullplex
, and more.
As the article quotes Vince Carducci of the College for Creative Studies and
Motown Review of Art
blog as saying, "All this occurred when most of the area 'was a bit scary for many middle-of-the-road people.'"
That is a diplomatic way of putting it. It might have also been acceptable to say "These were the kinds of places that made
Detroit News
readers scream and shit blood."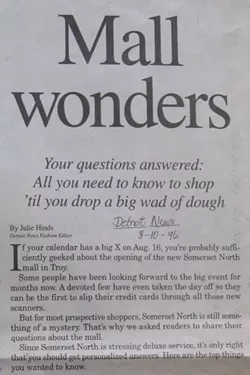 For instance, the very week the Gold Dollar was opening in 1996, the only "downtown"
The Detroit News
seemed interested in was the contrived downtown of newly reopened Somerset Mall, to which it devoted pages of loving coverage. At the time, it was part of a unified local media landscape that offered upbeat coverage of suburban development and cast its backward gaze on a city it had largely vacated.
This media landscape shaped the views of an entire generation of suburbanites. I am reminded, for instance, of
the "Worried Mom" who wrote to local art gallery owner Joel Van Bael not four years ago
complaining that his gallery was in a Detroit neighborhood that frightened her.
I was APPALLED at the neighborhood!!!!!!!!! My daughter goes to events there and I am really worried. Do you have security? I saw none. It is located in the toilet bowl of Detroit. (Do you watch the news??)

Can't you find rent in Ferndale or something?

How time can change things. By now, presumably, "Worried Mom" knows that downtown Detroit has been made safe for her. It has enough places to dine and drink that
even Nolan Finley can stay out past midnight
. The criminals and artists, one supposes, have shuffled off to the next up-and-coming neighborhood, where they can do the hard work of making it edgy and cool enough for the plutocracy to claim it next.
But at least on one Wednesday morning in 2018,
The Detroit News
acknowledged that the underground scene had value. Well, better late than never.