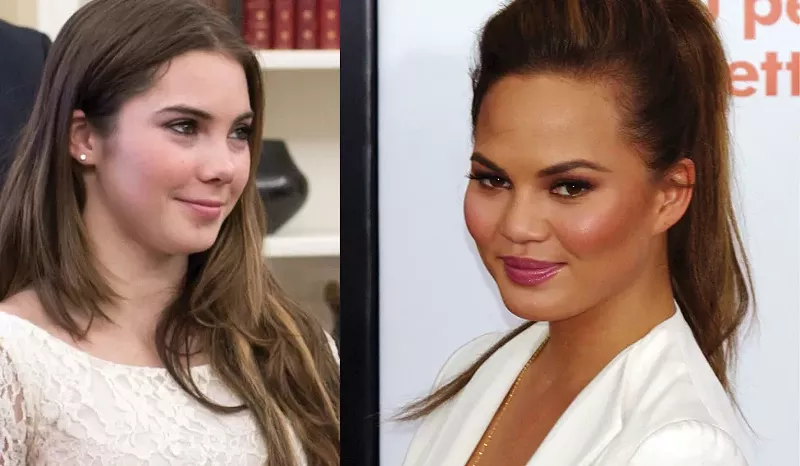 Wikimedia Commons
McKayla Maroney, left, and Chrissy Teigan.
Former Michigan State University sports physician Larry Nassar was in court today, facing sentencing for the criminal sexual conduct charges he pleaded guilty to in late 2017.
Nassar was charged with a total of 10 counts of criminal sexual conduct in two Michigan counties. Today, he was in court to hear testimony from nearly 100 of his victims and their family members, including
one woman who says the doctor began abusing her when she was 6 years old
.
Olympic gold medalist McKayla Maroney says she was also abused by Nassar, but could face a $100,000 fine if she speaks in court. In 2016, when allegations against Nassar were beginning to emerge, Maroney
entered into a nondisclosure agreement with USA Gymnastics
from which she received a $1.25 million settlement. Per the contract, she is not allowed to speak publicly about the abuse Nassar allegedly inflicted upon her as a young athlete.
Now, celebrity model and Twitter clapback queen Chrissy Teigan is vowing to pay the possible fine for Maroney, should she choose to speak at Nassar's hearing.
"The entire principle of this should be fought," Teigan wrote on Twitter today. "An NDA to stay quiet about this serial monster with over 140 accusers, but I would be absolutely honored to pay this fine for you, McKayla."
Maroney's
attorney filed a suit in December
, saying the NDA was unlawful because the gymnast was a minor at the time of the abuse.
Nassar has already been charged with 60 years in prison for child pornography charges and faces up to life in prison for the criminal sexual misconduct charges.