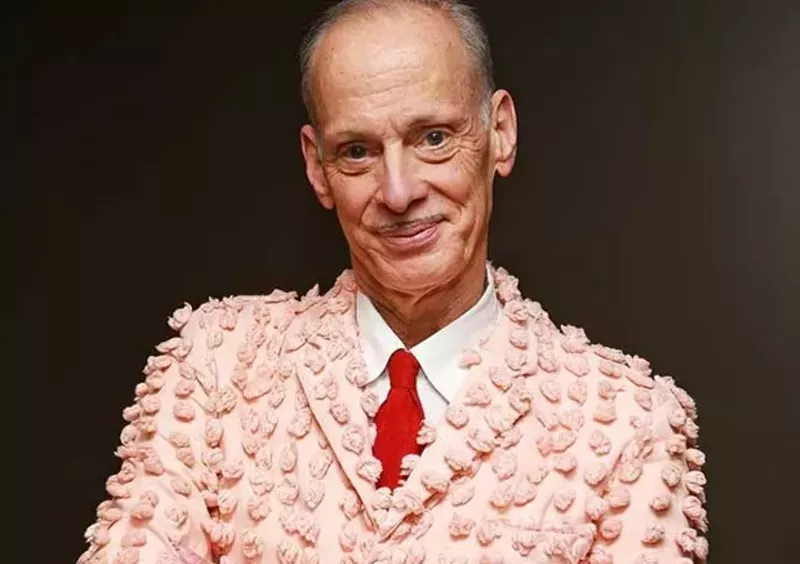 Courtesy photo
John Waters.
For some reason, Baltimore-based filmmaker and cult favorite John Waters likes to celebrate his birthday in Detroit. Once again, he returns to the Motor City to celebrate his big day (he turns 72) with a string of appearances at El Club. "A Very John Waters Birthday" features Waters offering his live commentary of
Serial Mom
featuring a performance by L7 on
Saturday, April 21
and a live commentary for
Desperate Living
followed by a performance by frequent collaborator Mink Stole on
Sunday, April 22
.
We hopped on the phone with Waters for literally 10 minutes to find out more.
Metro Times:
So once again you are celebrating your birthday in Detroit.
John Waters:
Even on my birthday, I work, you see. Every year now I come to Detroit for my birthday. It's a tradition. I think it's perfect. It's good to work on your birthday. I don't really celebrate my birthday, maybe only every ten years. On my 70th birthday I took five friends to Paris. So that was a big celebration. God knows what I'll do when I turn 80. Maybe we'll go to the moon or something by then. Who knows.
MT:
Why Detroit?
Waters:
Well, I come when they ask me. I like the club, I like the place I'm playing. It seems like a great crowd. The punk rock world has always been very accepting to me. I'm hosting that giant
Burger Boogaloo Festival
in Oakland I do every year again in July. The punk world has always been very great to me. I feel most at home there.
MT:
But what is it about Detroit?
Waters:
I live in Baltimore, so they have some things in common. I think Detroit has a different set of problems. But I think it's really got a great Bohemia now. People are moving there from all over the country because there is a Bohemia left there. It's one of the few cities — Baltimore's one too — where it still can be cheap enough to have a Bohemia.
MT:
What's the plan for your birthday celebrations this year? No stand-up like before?
Waters:
This year I'm doing different things. I'm doing live commentary on the movies. We're talking through movies, there will be meet-and-greets. It's two days of stuff. The dusk-to-dawn John Waters experience.
MT:
You're also involved in the
Tom of Finland exhibition
at MOCAD, right?
Waters:
I have some pieces in there. Tom of Finland, I own some of his work. I thought the movie they made of Tom of Finland was really well-done. It was a big commercial movie from Finland. Can you imagine in Finland? They have a regular stamp from the government that has Tom of Finland on it. Can you imagine the United States putting like, Jeff Stryker on a stamp? To me, I think that's so great. I think Tom of Finland is a real fine artist.
MT:
When did you first become familiar with his work?
Waters:
Oh, the '50s when I used to steal magazines that had his pictures when I was in high school down in the porn shop in Baltimore. I was too embarrassed to buy them. I don't think I was the only person to ever do that. Stolen pornography is even more exciting. You have to break the law to break the law. Now it's free, which I'm against. I feel like if you don't overpay for pornography the guilt is not there and it's not worth it. I love that Larry Flynt seriously asked Obama for a bailout for the porn industry. I think Obama thought he was joking. But I think he meant it, because it's free now. Porn shouldn't be free.
MT:
There must not have been much like that in the '50s.
Waters:
There were no images like Tom of Finland. He invented a lifestyle. He invented the leather scene. He invented that look — that overdone masculinity that people are still imitating everywhere. Now if you're into that look today, you're a faux skinhead. A faux, un-racist skinhead. There's the racist kind and the ska kind. So I think that if you're a young leather person — which I don't believe there's as many as one would think — you would definitely be dressing like a faux, non-racist skinhead — that would be the look. And I think that's what Tom would be drawing today.
MT:
When did you start collecting his work?
Waters:
Well, I only have one. They're so expensive now. I couldn't afford to collect him these days. I bought a piece a long time ago. It's actually two cops performing anilingus. It's the one thing my housekeeper has never mentioned. But she has to look at it. I assume she looks at it... I think my house looks so normal. I forget. Then the phone man comes and they're looking around in horror. To me it looks completely normal.
MT:
What did you do for the Tom of Finland show?
Waters:
I did a tribute to Mike Kelley, who was my friend — a great Detroit artist. It was kind of an imitation of some of his work about pets and hobby stuff. It's a pet urn for ashes dedicated to him. It's very much, I hope, in the spirit of Mike's work. I think Mike would have been fine with it. I knew Mike. I spoke at his funeral. I think he's a great, great, great artist. Your city has one of the best contemporary artists in the world.
MT:
When you come to Detroit, do you hitchhike?
Waters:
No, I don't hitchhike through Detroit. I don't ever have to hitchhike. After I hitchhiked through North America and wrote book about it I don't feel an urge to do it again. But I certainly could. I went to the March for Our Lives in Washington and I said to my friend, "Look, if we can't get back, we're hitchhiking, and I'll get a ride from Washington to Baltimore no problem." But I didn't have to. But I would. I know that I can. I wouldn't be afraid to. I would and I could at a moment's notice.
MT:
Are there any plans for future film projects?
Waters:
Oh, Hollywood pays me all the time. They just don't make them. I had a development deal for my children's Christmas movie called
Fruitcake
. I had three different development deals: one for a TV show, one a sequel to the musical [
Hairspray
], and very recently with HBO for a sequel to my original movie. Each time, they pay me and say they like it, and then they don't make them. So I'm still in the film business. But my books do better. My last two books were hits. My last movie wasn't at the box office. I'm hard at work on my book
Mr. Know It All
, which I've been writing for two years. So that's my main project today.
MT:
Anything else fans should know?
Waters:
Me, Mink Stole, Mike Kelley, L7, Tom of Finland — I can't think of a better weekend. And it's my birthday. I'm looking forward to it. I have a pin on my bulletin board. It says, "Blow me, it's my birthday." I might wear that.
MT:
It might work.
Waters:
I don't think I want it to work. ... Anybody that might say, "OK" might not be exactly... these days you have to be careful. Probably, I shouldn't wear this.
Doors open at 8 p.m.; 4114 W. Vernor Hwy., Detroit; 313-279-7382; Tickets for the live commentary are $65.00-$250.00.
Get our top picks for the best events in Detroit every Thursday morning. Sign up for our events newsletter.