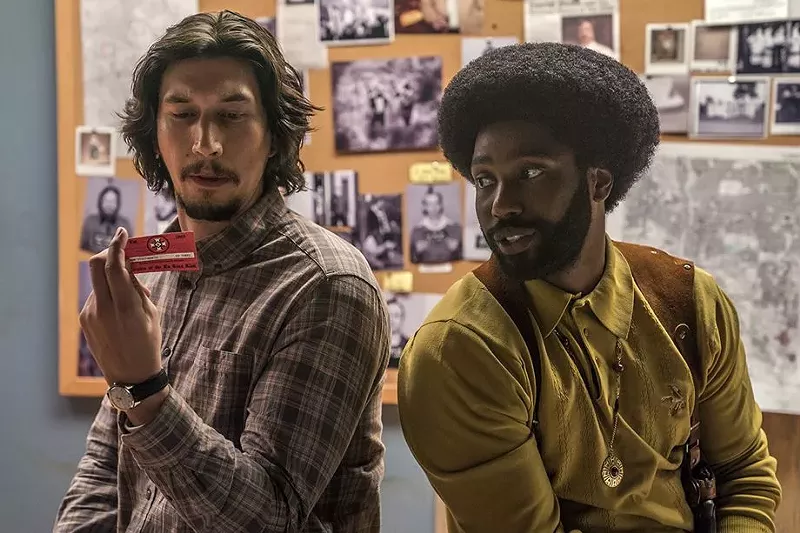 Courtesy photo
Adam Driver and John David Washington in BlacKkKlansman.
John David Washington got a late start in acting, entering the field in his early 30s. But he was certainly no stranger to show business, making his big screen debut back in 1992 with a bit part as child in Spike Lee's epic biography of
Malcolm X
. Of course, it helped that his father happened to be the inimitable Denzel Washington — the star of that film, and one of Hollywood's greatest leading men.
But the younger Washington doesn't trade on his parentage, seeming a bit shy about it. While at first glance he's not a dead ringer for his pops, you can hear a bit of that famous, deep timbre in his voice, and he definitely shares the broad smile and booming laugh of his gifted father. Before joining the family business, John was a professional running back drafted by the Los Angeles Rams in 2006, and served stints in various leagues before 2015, when he landed a recurring role on HBO's sports comedy series
Ballers
— where, not surprisingly, he plays a footballer.
All that gridiron experience lends his performance the physicality and the mental discipline for his role in
BlacKkKlansman
, Lee's latest film. Washington plays the real life Ron Stallworth, who in the early '70s became Colorado Springs' first African-American detective. Stallworth went on to lead an investigative unit that infiltrated the local chapter of the KKK, and even began a phone dialogue with infamous Louisiana-based grand wizard David Duke (played by a scene-stealing Topher Grace), later serving as Duke's bodyguard on a Colorado tour stop. It's an almost unbelievable story made even more audaciously funny and shocking by the gonzo direction of Lee, who Washington was thrilled to be reunited with.
"It was like joining a franchise you've loved your whole life, a winning franchise, one of great tradition that produces like the greatest quarterbacks and linebackers ever," he says. "Being part of that sort of pantheon, that ring of champions, was an honor."
Of working with Lee, Washington says he felt at ease. "He's a man that loves his craft and he really appreciates the process of telling a story correctly," he says. "It was an incredible learning experience. I felt no pressure at all. I felt welcomed and actually encouraged because this legend trusted me with the information. The kind of encouragement you get from him enables you to exceed expectations and your abilities feel limitless in a way, and that kind of feeling is second to none."
Lee is known as a true auteur who carefully handcrafts every aspect of filmmaking, but that doesn't mean that the actors weren't free to experiment or play around with the words — especially in the long, heated dialogue sequences between the cops and the Klan, which play out like verbal jousts.
Washington says they rehearsed for two and a half weeks, watching
The French Connection
and discussing the '70s, and tweaking the script as necessary: "changing the script, putting things back into the script, so the best idea in the room wins," he says.
"It's organized chaos man," Washington says. "On set we had a structure, but he's a master at being able to recognize momentum and authentic moments. He understands energy and when those things happen you go a bit off the reservation, go off book and just be in that moment. A lot of that happened in this film, which I think made it better."
"It felt like a true American story, but one that slipped through the cracks," Washington says. "(Stallworth) did his job. I think that's extremely heroic. He protected and served his community [as] a black officer. We don't usually get that perspective — we get the story of the Black Panthers or the gangster or whatever. You could do a whole movie about how he became a cop — the first black cop in Colorado Springs — that in itself is a fascinating bit of history. I was proud and excited to know this story was going to be handled by (executive producer) Jordan Peele and Spike Lee. I don't think anyone else could do it justice."
Through a series of directorial choices, Spike Lee makes very explicit the straight line between the racial clashes of the '70s and the renewed menace of white supremacist organizations today. "Reading and researching it, I wasn't thinking about the parallels," he says. "I wasn't drawing the connection between now and then. I was so engulfed in the period. To me it felt like a more radical time: coming off Vietnam and the murders of JFK, Dr. Martin Luther King, Malcolm X — I mean those were hits, they were knocked off. But when I saw the finished movie, saw more of the connection, and I realized, 'Oh my goodness!' I saw that the language was the same and these trigger words are familiar — they're generational, they're ageless. But I can't think about that in the moment, when I'm doing it. That's a deterrent to the truth-telling process. I got to live in the character and in his world."
That commitment to period authenticity helps ground the movie, and it keeps the tension even though there are abundant laughs in the situation. The absurdity and idiocy of racism is a constant source of humor as the sheer stupidity of the Klansmen is exposed. Washington, however, doesn't think the comedy detracts from the message, nor is it a stretch from the weird reality of the case.
"I feel what linked this all together, the nexus is that it's true," he says. "This happened, and the relevancy of today, it's still prevalent right now. Spike didn't have to point to the audience and say, 'That's the bad guy, look how stupid he is,' because we can see it for ourselves, and we can decide, 'Hey this is ridiculous.' So now you're laughing, but the laughs become so apprehensive in a way because it's so offensive. You don't know if you should be laughing. Because it happened, we were able to get away with a lot of stuff, but we didn't have to manipulate it."
BlackkKlansman
Rated R
Run-time: 135 minutes


Stay on top of Detroit news and views. Sign up for our weekly issue newsletter delivered each Wednesday.