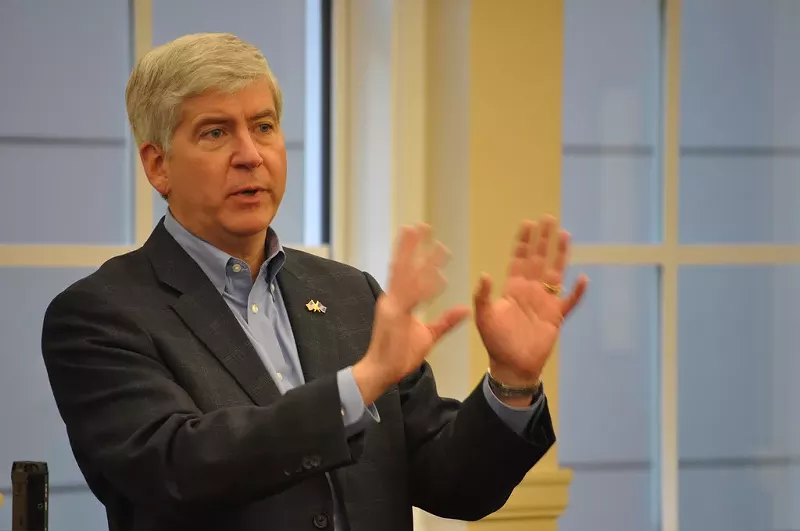 Michigan Municipal League via Flickr
Governor Rick Snyder.
Gov. Rick Snyder doubled down on his call for civility on Thursday, posting an update to his open letter on the website
civilityforus.com
. The move follows Snyder's "open letter regarding civility in public discourse" published in
The Detroit News
last month, in which more than 220 individuals ranging from politicians to corporate leaders signed on to show support. Now, the letter has more than 720 signatures.
"Since becoming Governor, I have made it my mission to continue and model Relentless Positive Action in serving the citizens of Michigan," Snyder writes. "As part of this I also feel strongly that in seeking solutions for the problems we face, we must listen, respect and treat each other with civility."
He adds, "Unfortunately, with increasing frequency across all political spectrums, we are seeing a complete decline in decorum within public discourse. We've witnessed threats and calls for violence against those that simply have a differing opinion on public policy matters. This alarming development should be of great concern to all of us, regardless of your own positions or philosophical leanings."
It's unclear exactly what the fuck Snyder is going on about.
Vague calls for civility have increased from those on the right
(and the
left-of-center
) after members of President Donald Trump's administration have been refused service at restaurants or heckled in the street. (Snyder has had
his own experience with public heckling
; in 2016, in the aftermath of Flint water crisis, he was spotted in an Ann Arbor restaurant where a diner approached him and sneered, "How was your water? Clean?")
"My hope with this endeavor is that this will be the beginning of an ongoing dialogue about civility," Snyder says. "Michigan is an exceptional place to call our home, and this is our opportunity together to show our residents that Michigan is a leader in treating people with respect and grace. I am committed to maintaining this guiding principle until my last day in office and beyond."
Of course, none of this solves any of Michigan's very real problems. And anyway, this is the house Republicans built. The elephant in the room is that Trump is certain to be the least civil and most divisive American president in modern history, and nowhere is he named in Snyder's little letter. Sure, Snyder refused to endorse Trump in the 2016 campaign. (Attorney General Bill Schuette, the GOP frontrunner for Snyder's job and a steadfast Trump supporter, also signed the letter.) But still: History will not look back kindly on the way Republicans allowed their party to become consumed with the hate and corruption — nor will it look back fondly on the party's continued impotence in standing up to it.
Stay on top of Detroit news and views. Sign up for our weekly issue newsletter delivered each Wednesday.