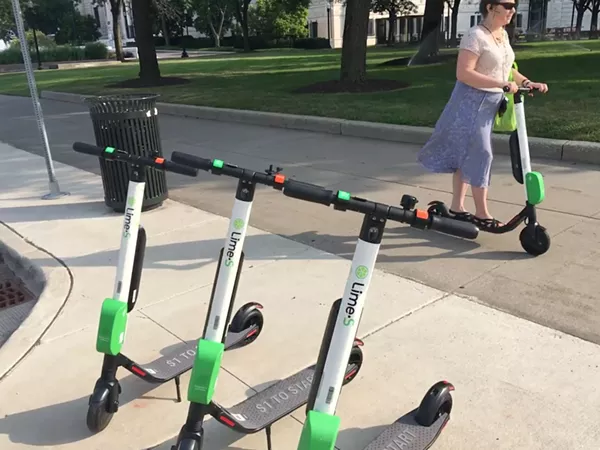 The Motor City might as well be the Scooter City, with not one but two electric scooter services now available for tech-savvy Detroiters.
On Tuesday, dozens of the electric scooters from tech company
Lime
appeared on Detroit streets. The scooters join those from Bird, a rival company which
deployed its scooters in Detroit at the end of July
. They're both
part
of an electric scooter craze sweeping cities across the country right now.
Like Bird, to ride you can use a smartphone to locate and unlock a scooter by downloading the company's app. (However, you can also ride the scooters without a smartphone by purchasing Lime credit through an affordability program called
Lime Access
.) Also like Bird, it's $1 to start and $0.15 per minute to ride. Both scooters have top speeds of 15 miles per hour. You have to be 18 or older, have a driver's license, and follow local traffic laws. In Michigan, that means wearing a helmet, but no one really does. You can ride on the sidewalk "only when doing so presents a low risk of disturbance to pedestrians," per city guidelines. It's better to use a bike line.
Basically, the Lime scooters are pretty much exactly like the Bird scooters. Ahh, capitalism: we have a freedom of choice. Meanwhile, Detroit still has
one of the worst public transportation systems
in the nation.
Lime has raised money from big-name investors, including Alphabet (the parent company of Google) and Uber, with a valuation of $1.1 billion.
Bird
is worth $2 billion.
Stay on top of Detroit news and views. Sign up for our weekly issue newsletter delivered each Wednesday.