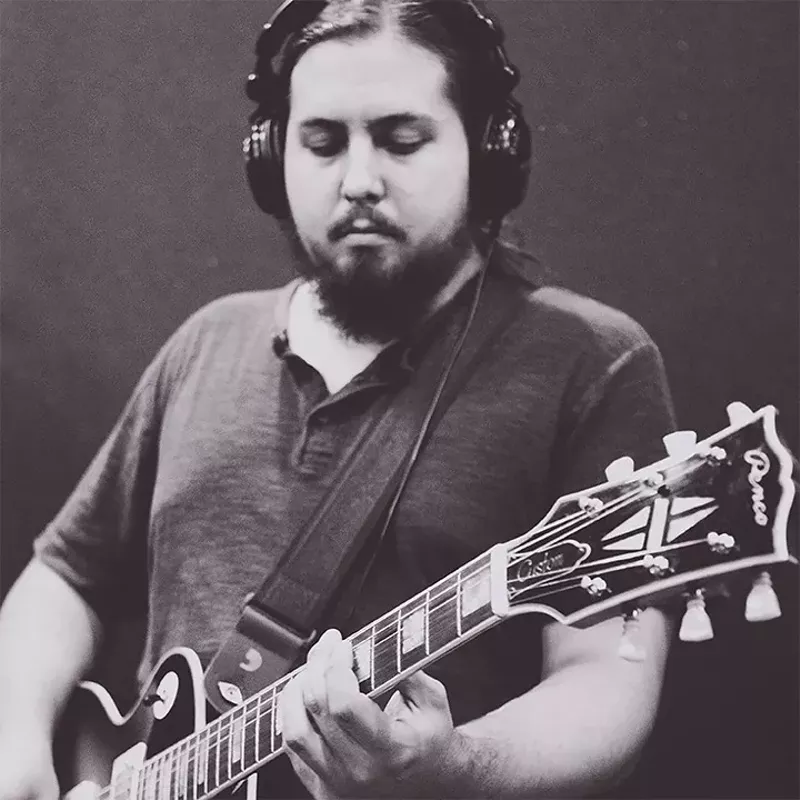 Courtesy photo
Johnathan Gogoleski.
Johnathan Gogoleski was the type of musician who could play
most
any instrument he picked up, and his influences ranged from Black Sabbath to Pink Floyd to Elvis. In fact, as a kid, he used to go to school dressed up as Elvis, and in recent years took the stage with a number of local bands.
After losing him to what some believe could've been a suicide in September — though his family says his death was likely accidental — Gogoleski's friends are celebrating his life the best way possible — by getting together and playing
his music
.
The Friday show at Ferndale's Loving Touch will feature three bands with which Gogoleski performed — The Magical Elixirs, The Consequences, and All About The Fire — and all proceeds will go to the
Suicide Loss Foundation
.
Zach Truran was a friend of Gogoleski since middle school and made music with him since 2005.
"He was pretty quiet and reserved in large groups, but he would often come up with the funniest remarks in the room," Truran says. "He had a dark sense of humor, which our whole group of friends has."
Truran describes Gogoleski, who lived in Berkeley, as deeply talented, and aside from music he recently designed puppets for a friend's movie. Truran says Gogoleski "did so much and offered so much to so many people, helped so many people, and brought a lot of love and laughter into people's lives."
Still, Gogoleski struggled with substance abuse in the months leading up to his death. Those issues and legal troubles stemming from an arrest are what Truran says he suspects sent Gogoleski into a depression, and that was likely made worse when Gogoleski's older sister died last year.
Truran says Gogoleski began abusing inhalants and withdrew from his group of friends. He stopped playing music, and seemed to spiral, even as his friends tried to intervene throughout 2018.
"It seemed like the real Johnathan was already gone, but I take comfort in that one of the last things I said to him was that he was my brother, I loved him, and that I would be there for him when he was ready," Truran says, adding that the circumstances around his death aren't totally clear.
"I think I can speak for everyone when I say that we're so thankful that we got to spend as many years as we did with him," Truran says.
Paying tribute to him with his tunes made sense, as did
donating
the money to a group that will provide assistance to suicide survivors. The Suicide Loss Foundation is a Farmington Hills-based organization that's designed to "fill a much-needed void and address the needs of those who have experienced a suicide."
"Simply put, Suicide Loss Foundation believes in 'Life after Loss,'" Executive director Kate Hardy says. "Our foundation offers postvention care to suicide loss survivors through peer-to-peer support, counseling services, and a reading resource library. Our mission is to offer these life-giving benefits free to those who cannot afford them because everyone should have the postvention assistance they need regardless of income or access to appropriate mental health care."
Hardy is also the founder of Six Feet Over and Suck It Suicide, groups that provide similar services to suicide survivors.
Doors are at 8 p.m. at The Loving Touch in Ferndale. Tickets are $10 at the door or can be pre-purchased
here
. Donations can also be made directly to the Suicide Loss Foundation
here
. Hear Gogoleski's music at his
Soundcloud page
.
Get our top picks for the best events in Detroit every Thursday morning. Sign up for our events newsletter.